Remember Elizabeth Swan From Pirates Of The Caribbean? She's All Grown Up!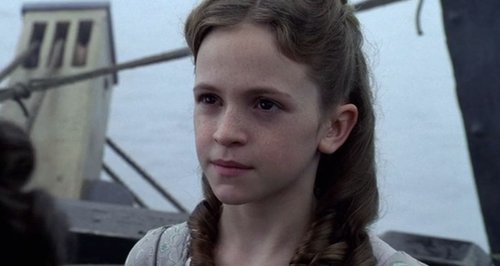 Can you believe it's been 13 years since our favourite Disney movie hit the big screen?
It seemed like only yesterday we were excitedly awaiting the release of 'Pirates of The Caribbean: The Curse Of The Black Pearl'.
The swashbuckling franchise featured a number of famous faces such as Keira Knightley, Orlando Bloom and of course Johnny Depp, but have you ever wondered what happen to some of the lesser known faces in the film?
Well if you remember, the film also featured actress Lucinda Dryzek as the young Elizabeth Swan and while she has remained in the TV and film industry since her first big break, most of us probably haven't laid eyes on her since.
Now the star is 25 years old, having recently celebrated her birthday, and she took to Instagram to show off her new look.
It appears she ditched her natural mouse brown hair in favour of a bleach blonde, and gone for a shorter bob instead of the long ringlets we saw her wear in the film.
So what has she been up to since starring in the pirate-themed blockbuster?
After the success of Pirates of the Caribbean, Lucinda would go on to appear in sci-fi fantasy 'City of Ember', which starred the likes of Saoirse Ronan, Bill Murray and Harry Treadaway.
However she hasn't yet landed another huge film role, instead making appearances on the small screen.
As well as roles in 'Doctor Who', 'Coming Up' and 'Doctors', Lucinda enjoyed longer stints in shows such as 'Help! I'm a Teenage Outlaw' and 'Parents of the Band'.
She also had success for her performance as Katy Riley in 'Life of Riley', which ran from 2009 to 2011.
Hopefully we'll be seeing her in a whole lot more very soon!