Ellen DeGeneres and Kristen Bell To Join The Spice Girls? Check Out Their Hilarious Audition Tape!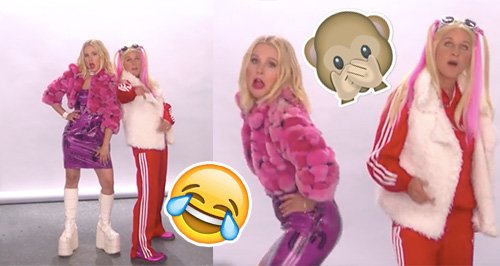 The comedy pair filmed an audition tape in a hope to become the next two Spice Girls for their 20th Anniversary Tour.
In recent months the buzz around a Spice Girls reunion has showed now sign of slowing down any time soon.
In a recent appearance on The Late Late Show with James Corden, Mel B confirmed that she, Emma Bunton and Geri Halliwell would be performing together to celebrate the 20th Anniversary of the Spice Girls.
With Victoria Beckham and Mel C not returning for the reunion, it looks like two spaces in the group are up for grabs so 58-year-old TV host Ellen DeGeneres and 36-year-old actress Kristen Bell have put themselves forward for the job.
The pair shot this HILARIOUS spoof audition tape on The Ellen Show in which they played 'Fresh Garlic Spice' and 'Basil Spice' in a bid to fill the empty slots in the band.
The funny pair sung the hit 'Wannabe' but didn't seem to be too sure of the words and instead shouted out the names of various spices such as 'Smoked paprika, rosemary, thyme, coin, nutmeg, oregano!'
They also busted some SERIOUSLY retro dance moves that would give many a 90's pop band a run for their money!
The pair also donned some incredibly 90's outfits which include Kristen dressed in some platform boots and a furry jacket with crimped hair while Ellen was a mix of baby and sporty spice with classic Emma Bunton bunches and a red Adidas track suit.
At the end of the video Kristen turns and says confidently 'we're gonna get this' to which Ellen agrees.
But the jury's still out on whether they are good enough for the job, and the Spice Girls are yet to comment!
Our fingers are crossed for you ladies!