Elton John and David Furnish Officially Marry And LIVE Stream Their Wedding!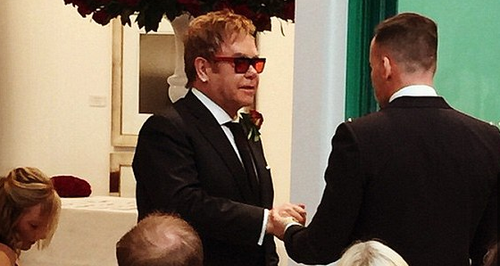 The star-studded nuptials saw the likes of David and Victoria Beckham, Ed Sheeran and actor David Walliams come together as the couple converted their civil partnership into a marriage following a law change in March which permits same-sex marriage in England and Wales.
For those that weren't fortunate enough to snag an invite to the lavish nuptials at Elton John and David Furnish's swanky Windsor estate, the pair - who initially held a civil partnership ceremony in 2005 -decided to stream their marriage vows live on Instagram in addition to a number of photos with the hashtag "#sharethelove".
The couple's four-year-old son Zachary and 23-month-old son Elijah were also in attendance and one image - showing their youngest child standing in between them as they held hands - bared the caption: "Zachary grabs David's iPhone and takes a photo of his brother while we exchange our vows."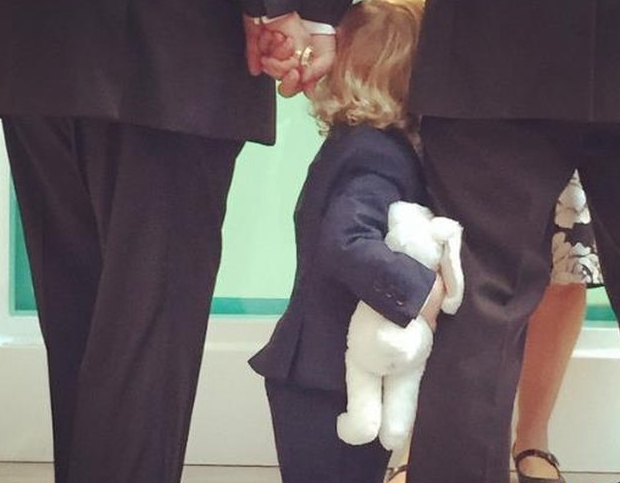 Wedding guests took to social media to pay their tributes to the newlyweds including Brooklyn Beckham who gave his followers a cheeky glimpse into the lavish do by posting a snap of the wedding lunch menu.
According to the picture, the lucky invitees were treated to a feast which included wild mushroom soup with truffle cream, beef short rib and caramelised onion pie and warm chocolate pudding with ice cream - not mention glasses of Laurent-Perrier champagne to wash it all down!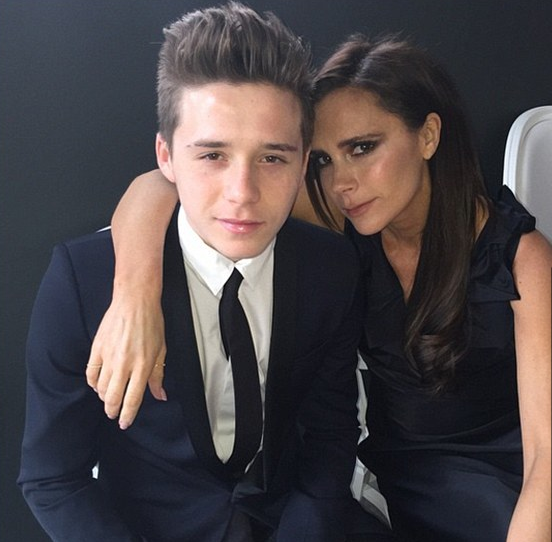 A notable absence from the A-list soiree was Adele, who apologised with a hand-written letter to the couple.
A picture of the letter-headed note from the Grammy Award-winning singer, her husband Simon and their son Angelo read: "Biggest congratulations my loves. Have a wonderful day. I'm sorry we are not there. See you in 2015. Love Adele, Simon and Angelo. x "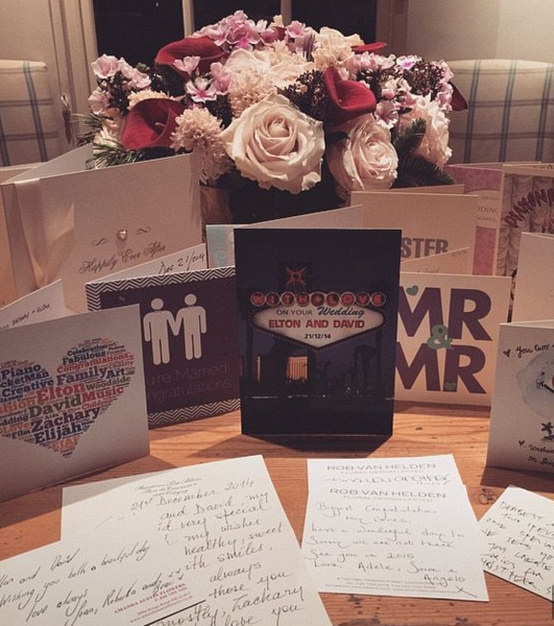 Congratulations Elton and David!