Emma Thompson Drops TWO Dress Sizes In 6 Weeks Thanks To Kate Middleton's Diet Guru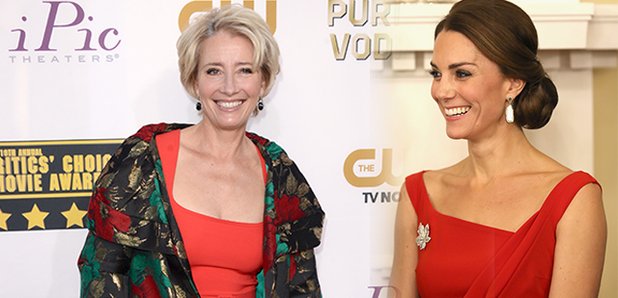 Actress Emma Thompson has dropped from a size 14 to a size 10 with help from dietician, Louise Parker, the same woman who's worked with the Duchess of Cambridge.
We'd never say that Emma Thompson was a 'big' woman but nevertheless, she's managed to shed the pounds and we want to know her secret... And now we do!
The 57-year-old actress managed to drop two dress sizes - from a UK size 14 to a size 10 - in just six weeks with a little help from the Duchess of Cambridge's dietician, Louise Parker.

Emma Thompson after her weight loss at the Bridget Jones's Baby premiere. Picture | PA
Louise Parker's technique see the stars set through a gruelling training programme, exercising six times a week for 90 minutes at a time. But Louise's six week intensive course will set you back £4,500.
Unlike other clean eating diets, following Louise's programmes meant that Emma Thompson didn't have to give up her bacon sandwiches, cheese, steak burgers and even the odd glass of white wine!
In the foreword to her healthy eating tome, The Louise Parker Method: Lean For Life: The Cookbook, the Nanny McPhee star writes: "Louise is the only one out there I trust - she's not holier than thou, yet somehow miraculously gets my reluctant arse into gear and sometimes even keeps it there.

Emma Thompson photographed in 2014. Picture | PA
"I love that her method is NOT a diet - and is genuinely sustainable - so I can have my glass of wine and manage to avoid spending the rest of the week eating cheesy Wotsits.
"She toughens me up without driving me round the bend with kale juice and the more depressing style of sprout. She just gets it. We all use her, because she's discreet and funny and that's really important."

Louise, who worked with Kate Middleton after she gave birth to Prince George in 2013, put together a bespoke nutritional dietary plan for the Love Actually actress.
Although Emma's diet was calorie controlled, she was instructed to eat three meals a day and two snacks.
It's obvious that the actress has worked hard to achieve her 8kg weight loss - and boy doesn't she look good!