We're Living For The FINAL Trailer For Beauty And The Beast!
Beauty and the Beast – US Official Final Trailer
02:32
Walt Disney Studios live-action remake of Beauty and the Beast starring Emma Watson and Dan Stevens will feature some serious changes to the tale, including Belle's back story. Watch the pair come to life in the first full trailer!
The final trailer is here! Check out more incredible sneak peeks from the movie in the video above.
The countdown is on until the release of the new live-action movie starring Emma Watson as Belle and Downton Abbey's Dan Stevens as the Beast.
Whilst we can't wait for the remake of the classic fairy tale, it's been announced that the film is going to feature some serious changes, one of which is Belle's backstory.

In the original Disney film, Belle's father, Maurice, is an inventor whilst she is lost in a world of books, leaving her feeling a little frustrated where "every day is like the one before".
Speaking to Entertainment Weekly, Emma has revealed that Belle is actually the inventor, while Maurice makes music boxes.
The 26-year-old actress explained: "In the animated movie, it's her father who is the inventor, and we actually co-opted that for Belle.
"I was like, 'Well, there was never very much information or detail at the beginning of the story as to why Belle didn't fit in, other than she liked books."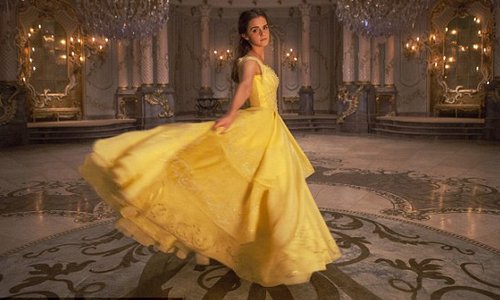 Picture | Walt Disney Studios
For Emma it made sense to explain why Belle didn't fit in beyond liking reading.
"Also 'What is she doing with her time?' So, we created a backstory for her, which was that she had invented a kind of washing machine, so that, instead of doing laundry, she could sit and use that time to read instead," she added. "So, yeah, we made Belle an inventor."
Belle hasn't left the confines of the "quiet village" due to the overprotective nature of her father, who's protection of Belle increased when her mother died. To make up for this, Maurice makes music boxes that play songs from all over the world so that she doesn't feel like she's missing out too much.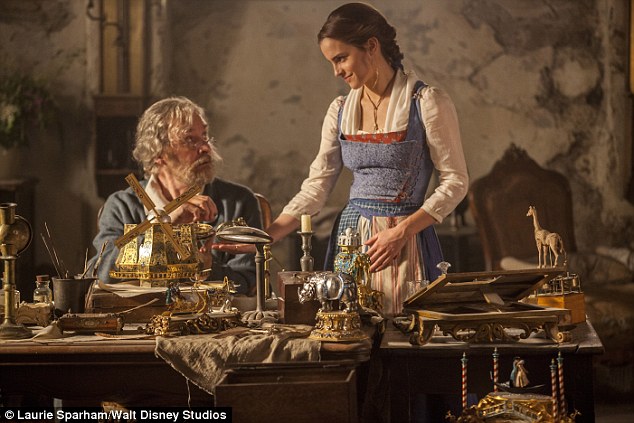 Picture | Entertainment Weekly
However, fans have been left wondering how this will affect the story line. After all, it was Maurice who created the wood-chopping machine that helps them escape the basement when Gaston traps them. How will they get out now?
Here's what you've missed so far:
Dan Stevens as The Beast:
First Look At Dan Stevens As "The Prince" (Human Version Of "The Beast") https://t.co/jXoC0oJbSX via @wdwnt pic.twitter.com/4mc0VIU5Oz

— Adventurer's Guide (@guide4disney) August 27, 2016
Lumiere, Cogsworth and Gaston:
The movie's co-producer Jack Morrissey added: "Here's a fine piece of concept art of Ewan McGregor as Lumière and Ian McKellen as Cogsworth. These designs are close but may not be final."
Here's a moment of b-roll from a take on the "Gaston" musical number, with (l. to. r.) Alexis Loizon - Official as Stanley, Josh Gad as LeFou, and Luke Evans as Gaston.
#BeautyAndTheBeast First Look: Lumiere, Cogsworth and Gastonpic.twitter.com/dWZGVdd66T

— Jolieth. (@Jolieth94) August 26, 2016
Luke Evans as Gaston:
Luke Evans who plays Gaston "If you could just hear this 93-piece orchestra playing the songs from Beauty and the Beast...it's spine-tingling."
Watch the trailer for the movie:
Disney have released a first trailer for their all-new, live-action reboot, almost 10 months ahead of its cinema release and it's ENCHANTING.
Starring Emma Watson in the lead role of Belle and Dan Stevens as The Beast, the cast includes Kevin Kline, Ewan McGregor, Stanley Tucci, Ian McKellen and Emma Thompson.
The original movie and soundtrack, featuring a duet with Celine Dion and Peabo Bryson, singing the title song, were a massive hit first time around in 1991. It was also the first animated film to receive a nomination for Best Picture at the Academy Awards.
A tale as old as time retold and if the trailer is anything to go by it's bound to be a blockbuster.
It's in cinemas on 17th March 2017.