Pucker Up! Ryan Reynolds Consoles Andrew Garfield With A Cheeky Kiss At The Golden Globes!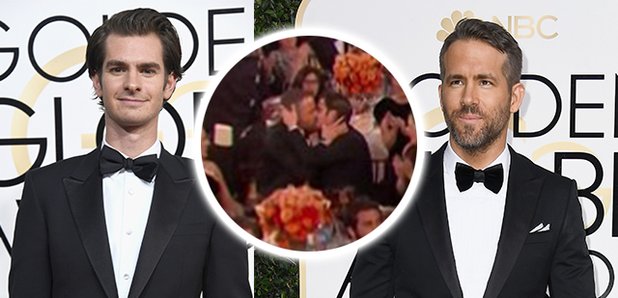 From tributes to Carrie Fisher to swipes at Donald Trump, here's what you missed at the 74th Golden Globe ceremony.
There's not doubt that we love watching TV and we can appreciate a good show when it catches our attention! But thanks to the time difference in Hollywood, you won't catch us staying up to watch the 74th Golden Globe Awards 2017 on a work night!
Never fear because Heart it here! With this round up of highlights from the event, you'll feel like you stayed up to watch it, just without the bags under your eyes... From tributes to Carrie Fisher to swipes at Donald Trump, here's what you missed.
Ryan Reynolds Consoles Andrew Garfield With A Cheeky Kiss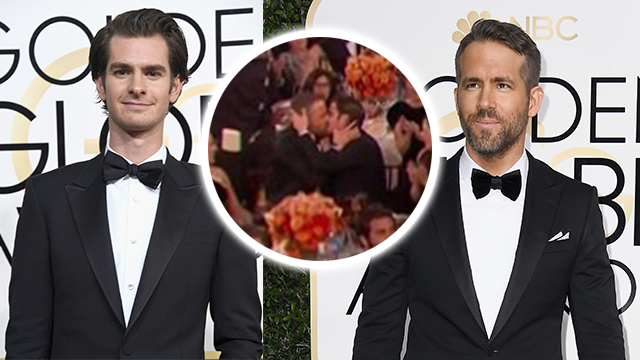 Andrew Garfleld was consoled by Ryan Reynolds! Picture | Getty
When it was announced that Hacksaw Ridge's Andrew Garfield has lost out on a Golden Globe to his ex-girlfriend Emma Stone's costar Ryan Gosling, it had the potential to get a bit awkward. But it's okay because the mischievous Deadpool actor, Ryan Reynolds, leant over to his table companion and planted a smooch right on Andrew's lips! Ryan's wife Blake Lively who was also at the table couldn't resist cracking up with laughter!

No One Can Get John Legend's Name Right, Despite Being A Nominee!
Bahahaha loser pic.twitter.com/bYNgxOFM8z

— christine teigen (@chrissyteigen) January 9, 2017
Poor John Legend. The singer and songwriter was up for best picture as the producer of the musical comedy La La Land but for some reason, the Golden Globes just could not get his name right! His wife, model Chrissy Teigen, didn't hesitate to upload a photo of her husband and his name place card where 'Legend' has been misspelt. His doting wife captioned the photo: "Bahahaha loser".
Emma Stone's Hug Is Rejected... AWKWARD!
Emma Stone's awkward reaction to her double hug w/ Damien Chazelle was hilarious/reminded me of this: https://t.co/WK2P2hl2tZ #GoldenGlobes pic.twitter.com/Mww9hEPoaf

— Jarett Wieselman (@JarettSays) January 9, 2017
As La La Land writer and director Damien Chazelle stood up to collect his award for Best Screenplay, Emma Stone leant in to hug her friend in celebration of his success. Only Damien had already leant in to hug his girlfriend Olivia leaving Emma rejected with her arms around Damien. It was all a bit awkward really. But Emma took the indignity in stride, appearing to say, "That was weird, I'm sorry."
Interviewer Names The Wrong Film And Pharrell Is Not Impressed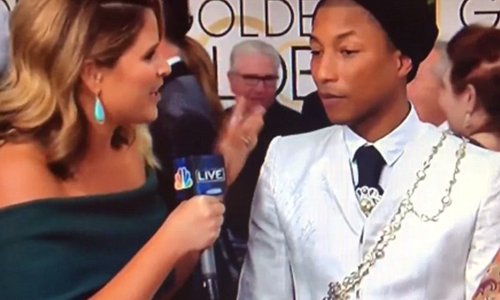 Pharrell's face says it all... Picture | NBC
CRINGE! Red carpet interviewer Jenna Bush Hager committed a massive awards ceremony booboo when she accidentally confused the name of Pharrell William's movie with the name of Denzel Washington's film, whilst interviewing Pharrell himself. While speaking with Pharrell on the red carpet at the event, the 35-year-old mentioned his nomination for Hidden Figures, but awkwardly referred to the movie as 'Hidden Fences' having clearly mixed it up with Denzel's hit drama Fences.
"So you're nominated for Hidden Fences," Jenna said. Whilst Pharrell didn't rush to correct her, his grimace said it all.
The Golden Globes Paid Tribute To Carrie Fisher And Debbie Reynolds
The #GoldenGlobes honor Carrie Fisher and Debbie Reynolds pic.twitter.com/0m2S2eVYsU

— Mash Entertainment (@mashentertain) January 9, 2017
There's no denying that in 2016 we lost some of the great acting legends but most recently, Hollywood's mother-daughter duo Debbie Reynolds and Carrie Fisher. The 74th Golden Globes ceremony kicked off with a touching tribute. Watch the full video here.
Stars Take A Swipe At Donald Trump
At tonight's #GoldenGlobes we honor Hollywood legend Meryl Streep with the prestigious Cecil B. Demille Award. pic.twitter.com/dxpeCDNXY6

— Golden Globe Awards (@goldenglobes) January 9, 2017
He may be the President-Elect but it's no secret that Hollywood were rooting for Donald Trump's rival, Hillary Clinton, to win the US Presidential Election. And despite already having won the election, the stars did not hold back during their acceptance speeches.
When Meryl Streep accepted the Cecil B. DeMille lifetime achievement award, she said: "This instinct to humiliate when it's modelled by someone in the public platform by someone powerful it filters down into everybody's life. Disrespect invites disrespect."
Although she didn't mention Trump, it was clear who she was talking about.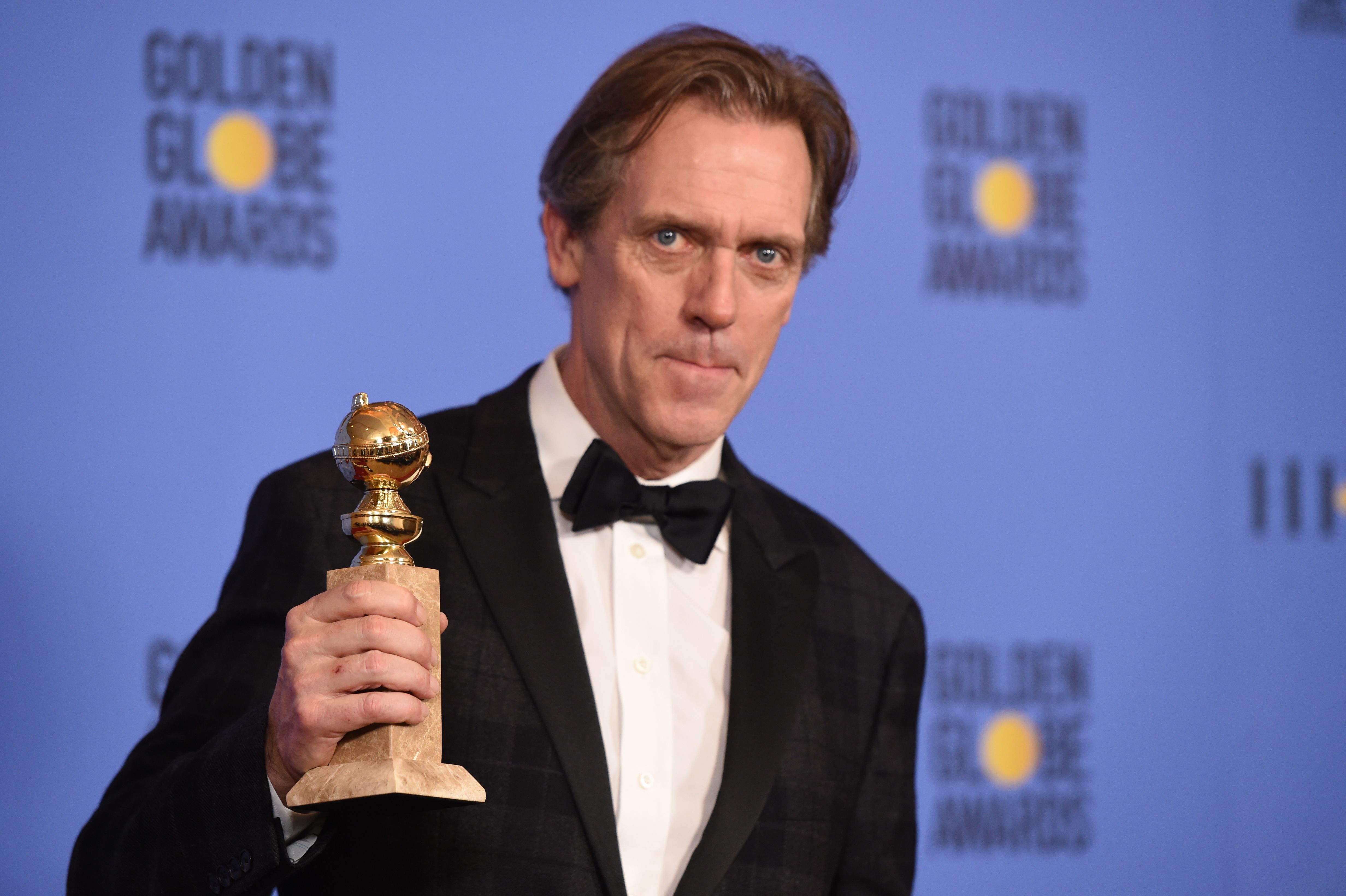 Hugh Laurie used his speech to take a swipe at Donal Trump. Picture | Getty
British actor Hugh Laurie, who is based in the United States, joked that this could be the last Golden Globes awards. As he picked up the award for best supporting actor in a series for his role as billionaire Richard Roper in The Night Manager, he said: "I don't mean to be gloomy. It's just it has 'Hollywood', 'foreign' and 'press' in the title... To some Republicans even the word 'association' is slightly sketchy.'
'"I accept this award on behalf of psychopathic billionaires everywhere,' he added.