EXCLUSIVE: Toff Slams Cruel Trolls After Bravely Removing Make Up To Reveal Acne
22 February 2018, 09:12 | Updated: 22 February 2018, 11:57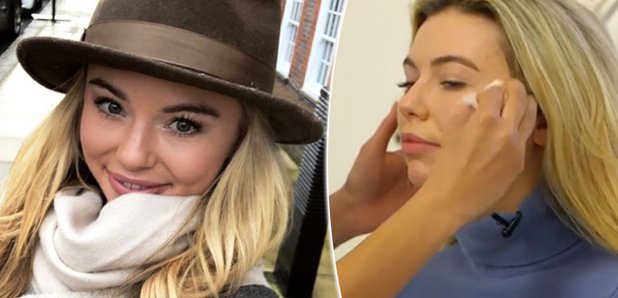 The TV star revealed to Heart how she deals with cyber bullies after admitting her skin condition massively affects her confidence.
"I will never understand why people troll other people," Toff told Heart. "What is the point? Saying something nasty about someone else is a complete waste of their time and the person's time who they're trolling, I don't get it."
The This Morning star has recently revealed her struggles with spots by bravely removing her make-up on national television and explained to us how she goes about dealing with cyber bullies.
She said: "My way of dealing with trolls is I leave it there, because I think it is so embarrassing to say nasty things about another person...I don't block anyone, I don't delete any of the comments, I think they should be ashamed of what they say."
Speaking about her decision to go make-up free, Toff explained she found it tough. "It was a massive deal for me to be filmed without my makeup on because I've tried hard for years to not show my spots," she revealed to Heart.
However, the response she's had since has been incredibly rewarding, having been inundated with messages from men, women, boys and girls.
Honestly @ToffTalks on @thismorning has made my day, there hasn't been more than 3 days in the past 10 years I haven't had spots. It's beyond debilitating and there's been times when I haven't left the house for over a week. The stigma needs to go, we're in 2018!!!!

— Laura Beth Allen (@LozTheBigUnit) February 19, 2018
Toff, like you, I had acne from the age of 18 and this affected my confidence to the degree I would avoid mirrors, and situations, including work. You are so inspirational. Big Hugs xxx

— Ginger and Nuts (@gingerandnuts) February 19, 2018
Toff came under fire after it emerged that she was wearing foundation during her stint on I'm A Celeb, but has since spoken out about the scenario. She told Heart: "I'm not ashamed to say that I did - I think having spots is a medical problem - it's not a cosmetic, aesthetic thing. That stigma that's attached to it, that spots are imperfections, in a way - we need to change that."
Toff plans to visit schools across the country to raise awareness of the struggles that people with bad skin face.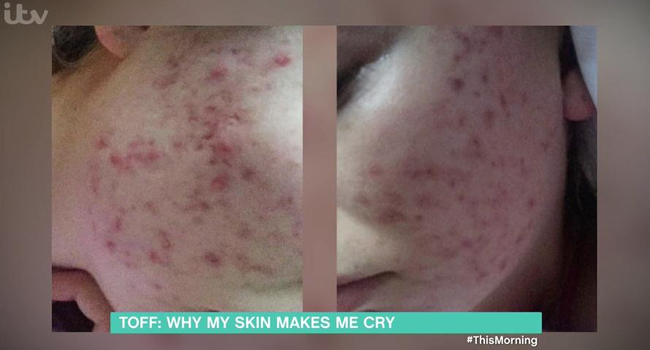 Credit: ITV - Toff bravely showed pictures she had taken of her skin at its worst
Toff also explained how her stint in I'm A Celebrity Get Me Out Of Here gave her the confidence to just be herself. When we asked her whether she felt the experience had "changed her" in any way, the star explained that it simply made her happy to be who she is.
"I felt it gave me enormous confidence that I can just be me and be liked. I always worry that people think because of the way that I speak or the show that I've been made famous for - people think I'm a bit of a wally and not nice - I don't like that. And now I think 'no, actually I know I'm nice, and people can b***er off they don't think that', you know?"
Toff's next venture sees her jetting out to work at The Oscars, where she hopes to rub shoulders with the best of Hollywood. "I'll be on the red carpet if it kills me!" she exclaimed. "I will find a way on there!"
The star is going to be presenting live links back to the U.K and will be revealing the whole Oscars experience - from stylists getting people ready right through to the main event.
Toff also exclusively told Heart that she will be recreating an iconic scene from a movie that's set in Rodeo Drive...we're looking forward to finding out what that's all about!
Watch Toff's This Morning Oscar coverage from Tuesday 27 February. This Morning is on weekdays from 10.30am on ITV.