After THAT Scene, These Fans Just Can't Wait Another Week For 'Broadchurch'
4 April 2017, 16:55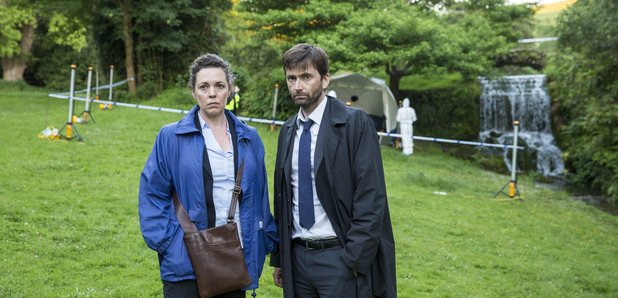 SPOILER ALERT: Do not read this article if you've not yet seen episode six of 'Broadchurch', which featured a shocking final scene that has fans longing for more.
Last night's episode of Broadchurch was, of course, fantastic telly. Fans were gripped by the sixth instalment of series three, which saw Hardy (David Tennant) and Miller (Olivia Coleman) gather a large amount of evidence against Ed Burnett (Lenny Henry), yet other residents in the town seemed as suspect as Ed…
It was the devastating final scene that had really glued to our screens, as – let's reiterate the spoiler alert at this stage – bereaved father Mark Latimer rowed out to sea and floated off into the icy waters. Viewers were left in the dark as to whether he could survive this apparent attempt to take his own life, but one thing's for sure: the nation was gripped.
We know, we know – It's only a TV show, but that does little to help our despair. Fans across the country were united on social media in lamenting Mark's fate and expressing their impatience for next week's episode.
Waiting for next's episode is a familiar pain for Ailsa
Just can't get over how good Broadchurch was hate waiting a week for the next episode

— ailsa (@ailsahowitt) April 4, 2017
Cinzia is feeling all #sadface
Broadchurch last episode....

— Cinzia Frontini (@_SouffleGirl_) April 4, 2017
Actually, Halima can wait
last night's broadchurch episode was so sad i need 3 weeks to recover

— haleema (@helleema) April 4, 2017
@Iltapalanyymi senses a sting in the tale
i feel like they are gonna turn around EVERYTHING in the next, and last episode #broadchurch

— Iltapalanyymi (@Iltapalanyymi) April 4, 2017
Denis is calling it: best. Series. Ever
Best series ever! Spent after last nights episode...so poignant..the acting is mind-blowing! #broadchurch

— Denise Logan (@nattyjudge) April 4, 2017
And Jess is just getting started
Hooked on broadchurch already and only an episode in

— J A F (@jessfletcher24) April 4, 2017
You've got a lot to look forward to, Jess!
This comes after countless questions piled up in the wake of last week's explosive episode, with fans scratching their heads at Ian's potential motive for breaking into his ex-wife's house. In even more shocking news, it fans were scratching their heads harder still at David Tennant's method for making a cup of tea. Who the hell makes tea in a microwave!?
Questions, so many questions. And with just two episodes to go, we're all hoping for answers…