Fans Mock Brooklyn Beckham For MISTAKE In His Latest Tattoo
3 August 2017, 12:50 | Updated: 3 August 2017, 15:40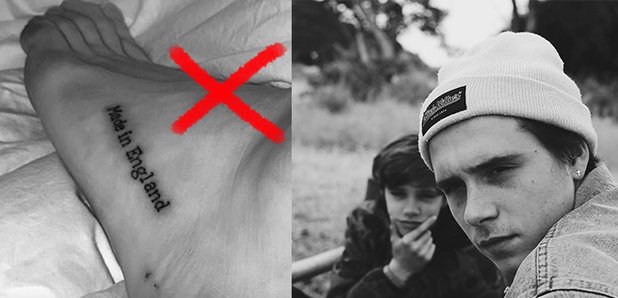 Brooklyn Beckham recently unveiled his new inking but he didn't quite get the response from fans that he was hoping for...
The 18-year-old son of former England football captain David Beckham and fashion designer Victoria, showed off a new tattoo along the outside of his left foot that reads: "MADE IN ENGLAND".
However, it left fans mocking the budding photographer for what they thought was a mistake.
It has always been widely believed that Brooklyn was named after the New York City suburb where he was allegedly conceived, meaning that he was actually 'Made In USA'.
Brooklyn Beckham has a made in England tattoo. Brooklyn Beckham ... BROOKLYN .... BRRRRRROOOOOOOOKLYYYYN

BROOOOOOOKKKLLLLYYYYNNNNNNNNNN

— James Buckley (@James_Buckley) August 2, 2017
Does someone want to tell Brooklyn Beckham that his new "Made in England" tattoo is maybe at odds with his first name

— Adeel Amini (@adeelamini) August 1, 2017
One of my absolute favourite things is Brooklyn Beckham (famously named after where he was conceived) getting a "MADE IN ENGLAND" tattoo.

— Paul Gold (@PaulGold92) August 3, 2017
However, if Brooklyn's mother is to be believed, she says that her eldest son's name has nothing to do with where he was conceived.
In her 2001 biography, Learning To Fly, Victoria revealed she simply liked the name.
She wrote: "We already knew he was a boy and so I knew he could end up a footballer, so it had to be a name that was a bit bloke.
"I had always liked the name Brooke and then we suddenly thought about Brooklyn. I'd always like it as a place – it's very multi-cultural, very grounded.
"And it was only afterwards that I realised how appropriate it was because it was in New York that I found out I was pregnant and where David came after the World Cup."
Brooklyn unveiled his tattoo shortly after he was reported saying that fame has its "ups and downs".
The 18-year-old photographer - who is the son of soccer star David Beckham and singer turned fashion designer Victoria Beckham - admits life is tough in the spotlight because he can't do "what most 18 year olds do" such as going out partying.
He said: "I feel like it [fame] has its ups and downs. I feel like I get opportunities that most people my age don't get.
"But, like, I can't do what most 18 year olds do. Like, I can't go out partying all the time, I have to work and get up early. So it kind of has its ups and downs."
And from a young age, Brooklyn has felt the "pressure" to follow in his dad's footsteps but now knows he'd much prefer to carve out his own photography career.
He added to Entertainment Tonight: "I had a lot of pressure on me. Every time I made a mistake everyone was looking at me like, 'Oh my God, like, he made a mistake.' I still really enjoy it and I still watch it with my dad all the time. But I kinda just wanted to go in my own direction ...
"I'm actually moving to New York in August to study photography for four years. I'm really excited. Photography is [it], that's what I really want to do. I mean, I love taking photos. So I think this is it for me. I've been interning for [British fashion photographer] Nick Knight, which was really fun, it was really cool to do. He's an awesome guy. He puts me to work!"