Is This The Best Friends Blooper Ever?
STOP EVERYTHING! We guarantee this new unseen 'Friends' blooper will have you laughing out loud!
So no one told you life was gonna be this way...
Yep, it may not be the 90's anymore but 'Friends' are as revelvant as ever and this hilarious 'Friends' blooper is making everyone laugh all over again!
While the cut blooper has been on YouTube for a number of years, a recent spate of shares has opened the hilarious video up to a whole new audience who have loved it so much that it's gone viral.
The scene has had over 3.5 million views on Facebook since it went viral, and has been liked over 120,000 times. So it's safe to say people are loving it! What do you think?
best. blooper. ever.

Posted by Hamza Khan on Tuesday, 15 March 2016
And if you love 'Friends' and missed the reunion, catch up below...
After months of rumours and constant speculation, it's safe to say that die-hard 'Friends' fans began losing hope that a reunion would ever take place.
So you can imagine we were all a bit shell-shocked when Jennifer Aniston, Matt Le Blanc, Courteney Cox, Lisa Kudrow and David Schwimmer all sat down on the SAME COUCH - albeit not inside the Central Perk - for a one-off special TV tribute to producer James Burrows.
Of course, there was one notable face missing. Matthew Perry. However he had previously explained he would not be appearing due to commitments to his West End play.
We did let him off the hook when he made this brief cameo to introduce the cast though!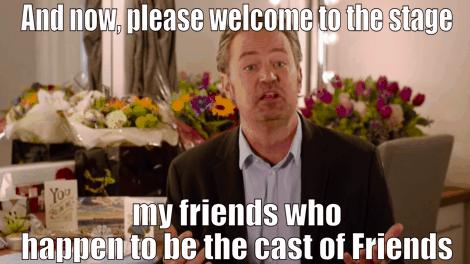 Despite being one member down, the cast were not short of juicy revelations as they shared some hilarious stories throughout their sit down chat with host Andy Cohen.
And now, the moment you've all been waiting for... #MustSeeTVhttps://t.co/zdVxnupnzE

— NBC (@nbc) February 22, 2016
So what did we learn?
Our Top Favourite Moments From The Friends Reunion.
1. They're STILL great Friends (excuse the pun!) and we tried not to cry when the cast held hands as they walked up the stage.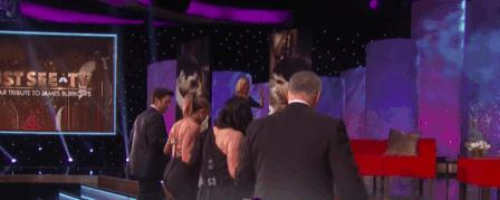 2. They have favourite episodes just like us! Jennifer Aniston revealed her favourite scenes were when they would go back in time. She said: "I always loved when we would flashback to Fat Monica and Rachel Pre-Nosejob and Ross with his Afro."
3. Producer, Burrows gave the cast the use of his dressing room to play poker, which then influenced the episode, "The One with All the Poker."
We can't get enough of this. #MustSeeTV pic.twitter.com/tACHbcoWos

— NBC (@nbc) February 22, 2016
4. Despite what actors say, they DO watch episodes back! In fact, during the first few seasons it was tradition that the cast would watch the show together and give each other notes.

5. The cast didn't have to sign a contract saying they would not sleep with each other. Or at least Lisa Kudrow had no idea it even exsisted!
Host Andy Cohen jokes: "Did you sign contracts saying that you wouldn't sleep with each other?"
A 'panicked' Kudrow replies: "David, say something!"
6. Lisa, Jennifer, and Courteney ate lunch together every single day for ten years! How cute?! Ultimate friendship goals.
7. They could have played compleltey different parts! Jennifer auditioned for Monica and Courteney auditioned for Rachel! How weird would that be?
They're here! ☺ #MustSeeTV pic.twitter.com/7tYyORqnXZ

— NBC (@nbc) February 22, 2016
8. Burrows is responsible for Joey's impression of a hockey puck hitting his face in the episode where Ross ended up in the emergency room after getting hit in the face by a puck. Hilarious.
9. Oh and in case you were wondering. Monica and Rachel COULD afford their apartment thanks to major rent control (and Monica's grandmother!)
And what did the fans think? Was the reunion a success or a total bust?
Well, it looks as though they LOVED it... they just wanted MORE of it and were a little disappointed that they didn't get a full sketch.
Seeing the cast of Friends together is making my heart melt #JamesBurrowsSpecial #MustSeeTV

— Kara (@kiteigs) February 22, 2016
5 of them are actually onstage together!!! This is not a dream. #FriendsReunion pic.twitter.com/dhXVa4tENi

— Neil Enore (@neilke93) February 22, 2016
Not satisfied enough with that little reunion but I guess it was better than nothing! #FriendsReunion

— Rubina Demirjian (@RubinaDemirjian) February 22, 2016
Kinda mad, thought it was supposed to be a legit episode... #FriendsReunion

— olivia (@itsoliviamayo) February 22, 2016
Are The Cast Dating In Real Life? Nope. *SIGH*
Joey and Monica (we mean Matt LeBlanc and Courteney Cox) have sent the rumour mill into overdrive when they were spotted walking arm in arm and sharing a kiss (which is basically as good as marriage, no?) after attending a special reunion show in LA.
What would Chandler think?? Well, we guess it's his own fault for being in London and missing the 'Friends' reunion...
But a spokesperson for 48-year-old Matt said that the pair are not romantically involved, confirming that the kiss was just a friendly peck.
It's not the first time that Courteney, 51, has been linked to a co-star - just last month she was rumoured to be dating her on-screen husband Matthew Perry (AKA Chandler Bing) when they were spotted out having lunch together, but the claims were quickly denied.
We probably all shed a tear when 'Friends' aired its final episode in the spring of 2004, and we've looked back with nostalgia ever since.
So that's why we got SUPER EXCITED that our prayers have been answered in the form of a reunion with the entire cast (yes, really!)
The cast of 'Friends' made some new friends Sunday night as they teamed up with the stars of CBS' 'The Big Bang Theory' for a photo.
Thanks to The Big Bang Theory's Kaley Cuoco, we've got our first glimpse of the reunion. "Ummmm NIGHT MADE," the 30-year-old actress wrote as she shared the photo to her Instagram account. "Can't breathe #friends meets #bbt @bigbangtheory_cbs I died and went to heaven."
However Matthew Perry - who played Chandler Bing in the long-running sitcom - was noticeably absent due to filming commitments.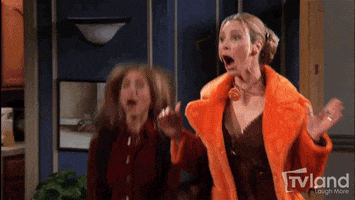 Perry "will not" be participating in the planned reunion due to conflicts with rehearsals for his West End play.
According to his spokeswoman, "Matthew may tape something" for the tribute to the show's creator James Burrows.
Basically, this means we may not get the reunion we had all prayed for...
WHAT?!?! WE REFUSE TO BELIEVE THIS IS HAPPENING!!
The news comes after TVLine.com revealed that Jennifer Aniston, Matt Le Blanc, Courteney Cox, Lisa Kudrow, Matthew Perry and David Schwimmer would all come together to pay homage to Burrows as part of an NBC TV special due to be taped and aired in the U.S. next month.
In addition to the 'Friends' crew, the cast of 'Will and Grace', 'Taxi' and 'Cheers' will also group together when the show airs Sunday 21st February.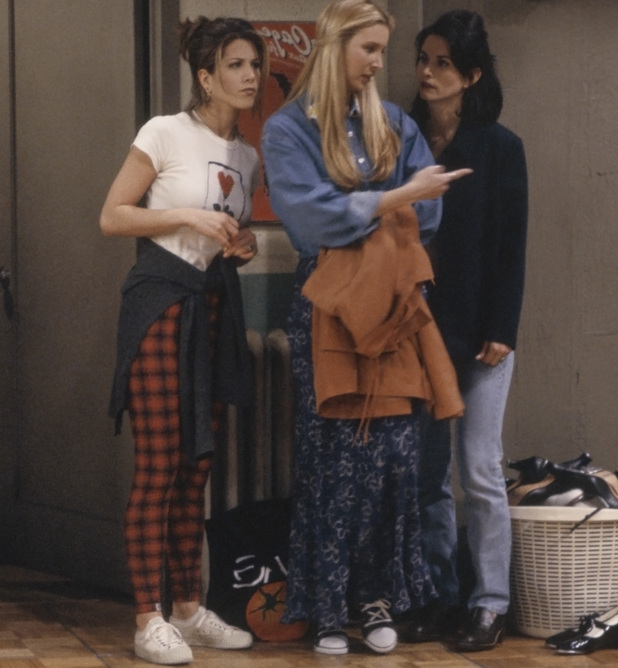 The celebration comes as Burrows recently marked filming his 1000th TV show with an episode of new sitcom 'Crowded'.
Courteney Cox recently shot down rumours that a 'Friends' movie or TV follow-up is on the cards, admitting that getting the cast together for dinner is hard enough!
The actress, who played Monica Gellar, said: "We've not really had a Friends reunion. We've gotten about 80 percent there but there's always one person that flakes at the end."
"I'm not going to name names," she joked when asked if it's David Schwimmer, her on-screen brother Ross. "But it may not be Schwimmer."
Seriously... this is ACTUALLY what dreams are made of!