Could We BE More Excited About The Upcoming 'Friends' Musical?
12 April 2017, 11:57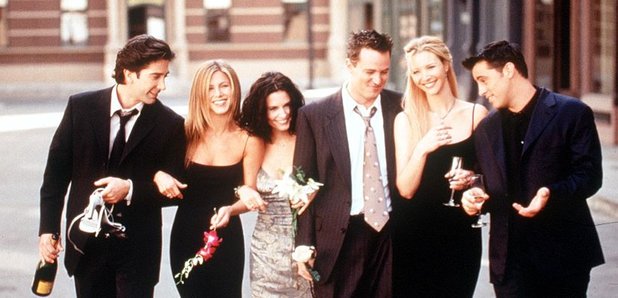 In the absence of a proper reunion, the new musical theatre version of 'Friends' might just scratch the itch.
Friends nostalgia is all the rage at the moment – there's barely a day goes by without speculation about a reunion.
That might not happen any time soon, as the cast have ruled it out at various times, but it's been announced that the next best thing is happening: a Friends musical! It's been confirmed for a Autumn 2017 run in New York City, but who knows – if it proves popular enough, we might get the show over in the UK sometime soon.
They are making a musical of friends!!, It aight to be interesting

— krishna subedi (@ksubedi35) April 12, 2017
More than 10 years after the classic New York-set sitcom bowed out with an emotional finale, there's still a massive appetite for a comeback. And writers Bob and Tobly McSmith, who have previously made headlines with parody musicals such as 90210! The Musical and Kardashians! The Musical, have responded in the only way they know how.
At this stage, it seems highly unlikely – to say the least – that mega-famouses Matthew Perry, Lisa Kudrow, David Schwimmer, Matt LeBlan and Jennifer Aniston will appear in the play. But it would be fantastic if they took their place in the audience!
Instead it seems that Chandler, Rachel, Ross, Monica, Phoebe and Joey will be played by different actors – which will definitely prove something to get around our heads around.
READ MORE: Which Friends Character Are You?
But the songs may make up the lack of beloved A-listers. The Huffington Post has reported that the following titles have been confirmed: 'We Were on a Break!', 'How You Doing, Ladies?', 'The Only Coffee Shop in New York City', 'Oh. My. God. It's Janice!', 'Could I BE Any More… in Love with Monica?' and 'We'll Always Be There For You'.
So, there's going to be a Friends musical. Hmmmmmm

— Hunter P. Middleton (@HPMiddleton) April 12, 2017
What, no 'Smelly Cat?' If any song was crying out for the old-school musical treatment, it's surely that one.
To be honest, we can't decide if the Friends musical sounds totally cringe or if tickets as are much of a must-have as Rachel's hairdo was in the '90s…