'Holy Yeezus!' 7 Hilariously Catty Reactions To Kim and Kanye's Baby Name!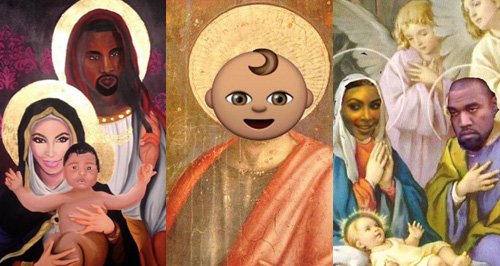 The moniker chosen by the Hollywood's power couple for their baby boy Saint West, hasn't gone down as well with social media as fans share comedic tweets and memes ridiculing their choice of name.
It looks as though the internet has mixed opinions on Kim and Kanye's choice of name for their newborn son Saint West.
The 'Keeping Up With the Kardashians' star announced the news on her website with an emoji family portrait which read:
SAINT WEST pic.twitter.com/xZGpY7z8KW

— Kim Kardashian West (@KimKardashian) December 7, 2015
Unfortunately for Kim, the joyous announcement has been slightly overshadowed...
While friends, family and fans alike took to social media over the weekend to congratulate the couple on their second child, the cheeky few have seized the opportunity to crack some jokes about their unusual choice of name.
We know we shouldn't laugh, but we couldn't help but crack a smile as these LOL worthy reactions!
Saint West, Son of Yeezus Christ pic.twitter.com/IRekjvhFul

— Saint West (@OnlySaintWest) December 8, 2015
Everyone bugging about Saint West AS IF the child of Kim and Kanye would be named Paul and grow up to be a mild mannered accountant.

— Julie (@juliawun) December 7, 2015
"Yeezus, do not fear to take Kim as your wife, for that which is conceived in her is from the Holy Spirit"#SaintWest pic.twitter.com/S3h64d6KJO

— Saint Robert West (@ItsbabySaint) December 8, 2015
saint west the type of baby to bless himself after sneezing. Then say thank you.

— Cameron Dallas (@thenikhilkapur) December 7, 2015
Just me being me #SaintWest pic.twitter.com/PF6wpI5P1C

— Saint Robert West (@MeSaintWest) December 7, 2015
When you hear Kim and Kanye named their son Saint West pic.twitter.com/ebEWseNKhw

— ️ (@purposeavon) December 7, 2015