Gary Barlow Confuses Shoppers With A Surprise Gig... Wearing A Gary Barlow Mask!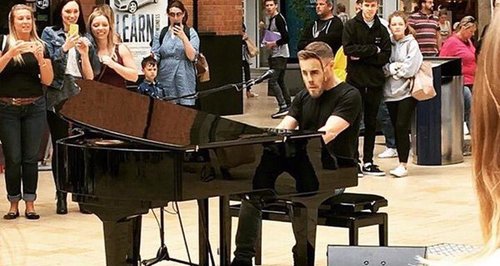 Gary Barlow is the man of many surprises - he's guilty of this on multiple accounts when it comes to gatecrashing weddings! And he's only gone and done it again by surprising the shoppers of Cabot Circus in Bristol.
The Take That star started to play a grande piano in the middle of the shopping centre wearing a Gary Barlow mask to, erm, hide his identity?
He started off by singing 'Could It Be Magic' which pulled in a crowd:
@GaryBarlow we knew straight away it was you in Bristol!!! #mask pic.twitter.com/SpCTY53yQY

— Welsh Linda Cook (@WelshLindaCook) May 30, 2016
And then the legend took off his mask to reveal his true identity!
@GaryBarlow singing in Bristol today!! (Video credit Bamitsstace https://t.co/So5Zvd83CB) pic.twitter.com/8MnABjMh5o

— Little Lyndz (@LittleMeThatter) May 30, 2016
Love you @GaryBarlow pic.twitter.com/dEZNr6tYqx

— Sabby (@SabrinaBoutte) May 30, 2016
Loved seeing Gary @GaryBarlow ..Great surprise at Cabot circus #bristol#cabotcircus#garybarlow pic.twitter.com/BTGojZbD8f

— Jo (@Jo_Meach) May 30, 2016
Theres a fake @GaryBarlow playing in shopping malls.. #ohwait pic.twitter.com/9CwWIgUEb6

— Marjolein (@MarjoleinNap) 30 May 2016
Hi Gary, please could you answer some of our requests?