Gemma Collins Sends Fans Into Meltdown As She Finds Love In Shock TOWIE Twist
18 December 2017, 10:29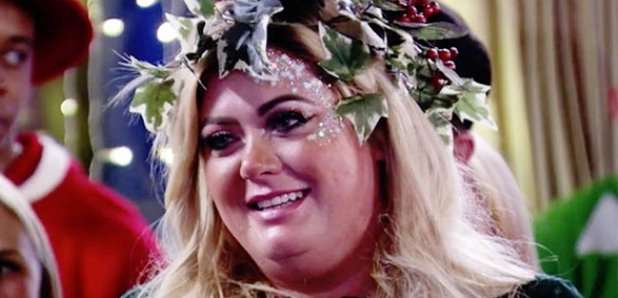 Christmas came early for The GC!
Christmas came early for reality star Gemma Collins as she found love with old flame James 'Arg' Argent.
In an emotional 'The Only Way Is Essexmas' festive special, Arg finally reveals just how he feels about Gemma.
The two have been on and off more times than anyone can remember; one minute they're the epitome of couple goals, the next they're at major loggerheads.
The TOWIE cast came together for Arg's birthday in a Christmas special, and right from the start fans of the show were desperate for Gemma and the birthday boy to get back together, but to begin with Arg couldn't work out whether he loved GC as a friend, or as something more.

Throughout the ep, GC started to feel frustrated with Arg's lack of commitment; best friend Bobby exclaimed: "You've got feelings and emotions!", whilst her mum added: "You're not an airbed."
Gemma seemed to agree with the backhanded advice, as she responded: "I'm the best fillet steak on the market, and I can't be someone's side salad".
In the end, Arg made up his mind and fans took to Twitter in a frenzy of happiness as the two gleefully disappeared together into the night:
Im crying tears of happiness i love @missgemcollins and @RealJamesArgent i just want them to get married and have babies #TOWIE

— Heidi Eastley (@CarmanLou) December 18, 2017
Literally bawling at @RealJamesArgent and @missgemcollins, about bloody time Arg #matchmadeinheaven #TOWIE

— Anita Senkowych (@ansenk615) December 18, 2017
Not gonna lie Gemma and Arg just made me well happy #towie

— Amy (@amyoramx) December 17, 2017
Arg pulled out all the stops; dressed as Santa, he took to the stage and said everything that Gemma has been wanting to hear:
"Gemma you're so lovely to me, you're always there for me whenever I need you and you make me laugh...And if you were to spend Christmas with me then that would make me the happiest man in the God damn world."
Gemma kept us all on the edge of our seats, as, for the briefest of moments, we wondered if she wasn't going to accept Arg's offer. But, after a moments suspense, she flashed her cheeky smile and uttered the most romantic of responses: "yeah alright then."
The two could barely contain their glee as Arg grabbed GC by the hand and whisked her away into the night.
Meghan and Prince Harry may have to watch out - there could be one hell of a glitzy wedding in 2018!