Watch George Clooney's Utter Surprise At Discovering Brad Pitt And Angelina Jolie Are Divorcing
George Clooney reacts to Brangelina split
00:47
The Hollywood actor has been close friends for years with both sides of the A-List couple and is left speechless when he discovers that the pair have split in the MIDDLE of an interview.
It's difficult news for anyone to hear that their friends are calling it quits on their marriage, but the moment of discovery isn't usually captured on camera for the world to see.
Unless that is, you happen to be George Clooney and have the new broken to you mid-interview.
Clooney is left visibly flabbergasted at the UN headquarters where he was attending a UNHCR refugee summit, when he is informed of the the split between Angelina Jolie and Brad Pitt, by a CNN interviewer.
On hearing of the divorce, the 55-year-old shares his thoughts with us all: "I didn't know that. I feel very sorry then. That's a sad story and unfortunate for a family."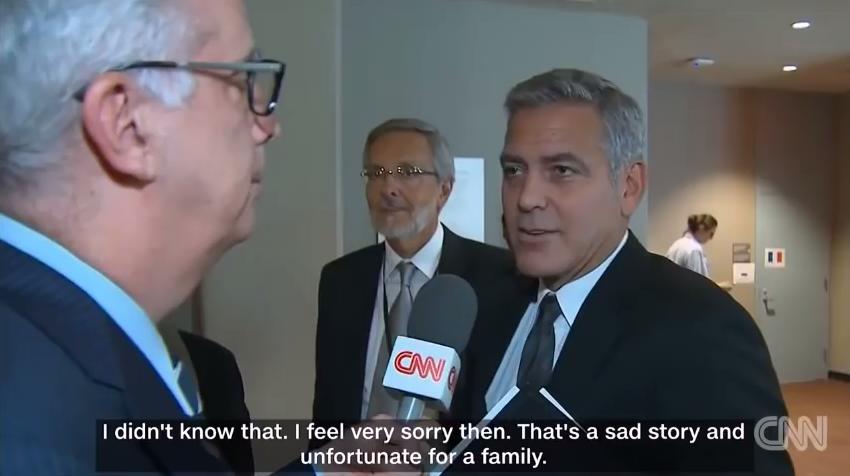 George Clooney being interviewed | Picture: CNN via Youtube
Meanwhile Pitt has released a statement to 'People' magazine, stating: "I am very saddened by this, but what matters most now is the well being of our kids" he added "I kindly as the press to give them the space they deserve during this challenging time."
Angelina and Brad have six children together: Maddox, 15, Pax, 12, Zahara, 11, Shiloh, 10, and twins Knox and Vivienne, eight.
Our thoughts are with the family at this difficult time.