Mummy Vlogger Giovanna Fletcher shows new mums that it's okay not to be okay
13 October 2018, 10:05 | Updated: 19 October 2018, 20:19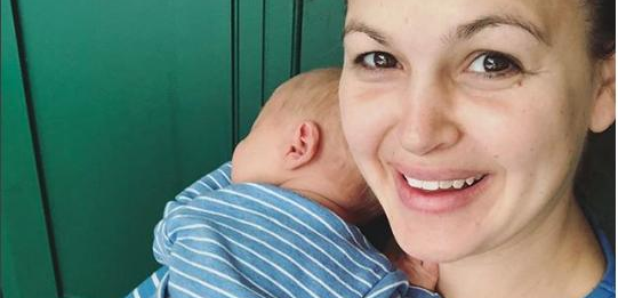 The mum-of-three opened up to her followers on Instagram.
Most mums will agree that although motherhood is rewarding, it can be a pretty tough job at times.
And Mother-of-three Giovanna Fletcher knows all about that, and has opened up about her own struggles after giving birth to her third child and hopes that it will encourage more mums to speak out too.
Celebrating National Mental Health Day, the award-winning author posted a lengthy heart-felt post telling her followers "I've not been feeling myself" lately.
Sharing a photo of her new born son, Max Mario Fletcher, the 33-year-old said: "I've not been feeling myself the last couple of weeks, which is pretty tough to admit.
View this post on Instagram
"I've tried to say it out loud a couple of times and then totally dismissed it and brushed it under the carpet.
"I have found myself saying, 'I'm not feeling myself, but it's fine. I'm fine.' Hmm... I'm fine but sometimes I don't want to get out of bed in the morning. I don't want to get dressed.
"I don't want to see people. I don't want to do anything. I'm fine but I've been crying for no reason and occasionally can't seem to stop.
"I'm not feeling myself right now but I've just had a baby and my hormones are all over the shop and playing havoc with my emotions."
Talking on being a new mum-of-three she continued: "I'm not feeling myself right now but I've just welcomed my third baby into the world and am so incredibly lucky.
View this post on Instagram
"I'm not feeling myself right now but people are asking things of me and I don't want to let them down. I want to deliver and be the productive, proactive and positive person I usually am."
Revealing how she managed to deal with not feeling much like herself, Giovanna shared how important it is for people to talk up when they're going through a bad time.
She continued: "I'm not feeling myself right now BUT thankfully I have a great bunch of people around me who are giving me lots of support and making sure I'm kinder to myself.
"We must be kinder to ourselves! And we must talk.
"I wasn't going to add to the amazing conversations happening around mental health today, but seeing as they've all helped me, I thought adding to it might just help some others. Be kinder and talk."
Fans of Giovanna were quick to flood her comments with praise of the star's openness and honesty with one of her followers posting: "You are amazing, it's hard enough admitting to yourself but telling others is almost impossible!"
Another follower commended her for the impact her honesty would have on her followers saying: "81,000 are watching and breathing a sigh of relief that someone even as 'public and famous' as you feels exactly like they do or did when they had a new born!! Well done for saying it out loud!
"I wish more people talked about how hard it is and reassured you that you do get through this but that it's ok to feel crap and it's ok to feel overwhelmed and it's ok to not feel like you're doing a good job at this parenting thing as I truly feel that every parent feels this at some point!"
Another thankful mum wrote: "I'm glad I'm not the only one feeling this way! I love that you are so open and honest about how you feel and not sugar coating it."
If you or anyone you know is suffering with postnatal depression please contact your local GP or health visitor or contact support groups www.pandasfoundation.org.uk or apni.org.