You'll Never Guess Who Has Been Honoured At Glamour's Woman Of The Year Awards!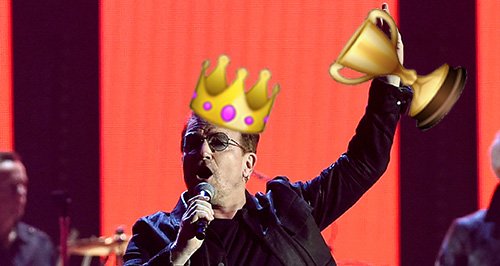 Every year Glamour Magazine honours exclusively incredible women who have made an impact in the world...until this year!
Every year Glamour magazine honours their chosen 'Women of the Year' both sides of the Atlantic, celebrating fabulous females who have made waves in the world for their profession or their beliefs.
And this year one of their honourees includes...a man.
Yes you read that correctly - one of Glamour's Women of the Year is A MAN!
Pretty bizarre choice for an awards show which honours women, but on their website, Glamour said 'But these days most women want men—no, need men—in our tribe.'
A bit of a curious statement, but nevertheless, they named U2 front man Bono as one of their choices.
And Twitter have A LOT to say about it...
That time #Bono won Woman of the Year. pic.twitter.com/CilduIfFO7

— Rifa (@rifa) November 2, 2016
bono is glamour's woman of the year pic.twitter.com/7jPhtnCLK2

— omobolasire (@vmochama) November 1, 2016
If Glamour *have* to give their Woman of the Year award to a bloke, can it not be David Attenborough or Kevin from Strictly or something

— Jessie Thompson (@jessiecath) November 2, 2016
I'm trying really hard not to be angry that Bono won Glamour's WOMAN Of The Year, but every time I remember it, I scream internally

— Lottie L'Amour (@Lottie_Lamour) November 2, 2016
So Glamour Woman of the year 2016 is a man, Bono. So we couldn't find any fabulous, successful and inspirational women then! #GlamourWOTY pic.twitter.com/X15RFK1DBq

— Stefanie o_O (@Ms_Stefanie) November 2, 2016
It seems that Glamour magazine have driven the web wild with their controversial choice!
This bonkers award choice comes after a year of crazy honours in 2016 including Wonder Woman announced as a UN Ambassador and race horse American Pharaoh nominated for Sports Personality of the year.
So which WOMEN were honoured this year?
All honourees are honoured for their inspiring stories and contributions to the world and their career.
Singer Gwen Stefani - The Icon
Olympic gymnast Simone Biles - The Record Breaker
#BlackLivesMatter founders Patrisse Cullers, Alicia Garza and Opal Tometi - The Justice Seekers
Plus size model Ashley Graham - The Body Activist
First female finance minister of France Christine Lagarde - Lifetime Achievement
Nadia Murad - The Woman Who Stood Up To Isis
Designer Miuccia Prada - The Fashion Force
Actress Zendaya - The Voice For Girls
Stanford Rape Victim, known as "Emily Doe', who wrote a powerful letter to her attacker.
You can read all the incredible and inspiring stories of these women
here
, oh and Bono's story too!
Lets just leave you with this oh so true and hilariously sarcastic Tweet...
Bono won "Woman of the Year" and Wonder Woman is a UN ambassador. If only there were real, live, human women to celebrate.

— Melissa Royle (@melissaroyle) November 2, 2016