What It REALLY Takes To Get Ready For The Golden Globe Awards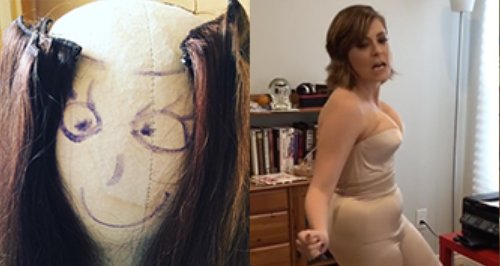 How much work goes into looking that good? And did you see the beef between Leo DiCaprio and Lady Gaga?! Here are all the highlights from the Golden Globe Awards...
The Golden Globes kicked off the awards season in style, seriously setting the bar high for the rest of the ceremonies to come.
But it wasn't just the awards that have got us talking - did you see the beef between Leonardo DiCaprio and Lady Gaga? What about the eternal youth of Brad Pitt?
From the awkward acceptance speeches to the behind-the-scenes preparation, we've got it all for you right here!
Spanx, Contacts And Hair Extensions: The Ugly Truth About Getting Ready
"I can't breath."
American actress Rachel Bloom achieves instant weight-loss:
Orange Is The New Black's Taylor Schilling making sure she has flawless skin:
Ugly Betty's America Ferrar opts for a new eye colour:
American actress J
ulia Louis-Dreyfus reveals the secrets to her luscious locks:
Because a bit of mascara and some foundation isn't enough:
Kate Winslet Is Totally Shocked With Her Win
"Is this really happening?!"
Twitter Goes Mad Over A Youthful-Looking Brad Pitt
"What kind of spell was put on him?"
Picture | Getty
HOW IS BRAD PITT 52. Benjamin Button is REAL

— MATT and KIM (@mattandkim) January 11, 2016
Brad Pitt at the 2046 Golden Globes pic.twitter.com/o8Pec5cRrO

— Dave Itzkoff (@ditzkoff) January 11, 2016
I can't handle Ryan Gosling and Brad Pitt together pic.twitter.com/eCdEYCwo5A

— Gabryela (@gabryBoschetto) January 11, 2016
I'm just confused at what kind of spell was put on brad pitt that keeps him young looking forever???? pic.twitter.com/vKJSX0pQKa

— Emily Nachazel (@em_nach) January 11, 2016
Eddie Redmayne Is Going To Be A Dad!
"I'm sweating - she's calm, I'm not!"
Picture | Rex
Eddie, 34, told TV host Ryan Seacrest that he and his wife, Les Miserable actress Hannah Bagshawe, 32, are expecting their first child together.
Lady Gaga Crashes Into Leonardo DiCaprio
Awkward...
Rosie Huntington Whiteley And Jason Statham Are Engaged
Subtle yet effective...
Picture | Getty
Model Rosie, 28, and actor Jason Statham, 48, wore an engagement ring to the awards ceremony which subtly acted as their announcement of the news. The pair have been dating for five years.
Denzel Washington's Wife Tells Him Off For Forgetting His Glasses
"You really do forget everything you're supposed to do!"
Jennifer Lawrence Scolds A Reporter
"You can't live your whole life behind your phone bro."
Jennifer Lawrence calls out a reporter for not looking up from his phone. #GoldenGlobes #backstage https://t.co/cflVGv4SLm

— Variety (@Variety) January 11, 2016
Behind The Scenes:
Kate Hudson getting ready!
Rob Lowe hanging out with Gerard Butler on the red carpet:
Buddies on the carpet #GoldenGlobes pic.twitter.com/isq3uQjxyI

— Rob Lowe (@RobLowe) January 11, 2016


Ugly Betty's America Ferrera chilling with Amy Schumer, Jennifer Lawrence and Eva Longoria in the presenters green room:
And the Golden Globes are only the start of the season! We wonder what the rest of the awards ceremonies have in store...