All Of The Drama From The People's Choice Awards In One Place!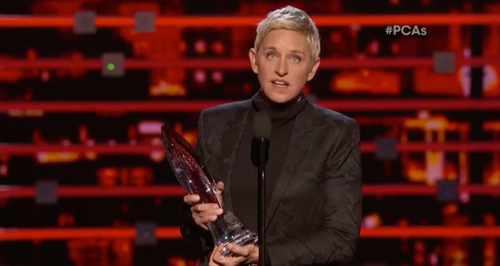 Didn't fancy staying up all night to watch the People's Choice Awards? No problem!
From Dakota Johnson's wardrobe malfunction to Sandra Bullock's emotional 'working mum's' speech, we've got it all.
Read more: People's Choice Awards 2016! The Glitz And The Glamour!
Ellen Degeneres Hilarious Speech About Kindness
"And tonight I want to make you happy, so... I brought a shirtless photo of Chris Hemsworth to share."
The amazing @TheEllenShow accepts Favorite Humanitarian, presented by @Walgreens. #PCAs https://t.co/cOeNSkXhDb

— People's Choice (@peopleschoice) January 7, 2016
Dakota Johnson's Wardrobe Malfunction
"It's not like nobody here hasn't already seen my boobs!"
Sandra Bullock's Heartfelt Acceptance Speech
"The successful women in this category... they all break moulds, push that glass ceiling up and they're all mamas."
Vin Diesel Sings Emotional Tribute To Paul Walker
"It's been a long day, without you my friend."
The Awards Ceremony Gate Crash
"You ain't gonna pull no Steve Harvey up in here, no sir! Security!"
The Miss Columbia Moment
"I have to apologise here, first runner up is Tom Lennon. The winner is Miss Columba!"
Behind-The-Scenes Preparation
Julianne Hough, from Grease Live, posted this photo to her Instagram: "Zip me baby! Ready to present with my #pinkladies tonight at the People's Choice Awards!"