Fans Hit Out At The Beckhams For Treating Harper To A Royal Birthday Surprise
11 July 2017, 07:50 | Updated: 10 October 2018, 16:28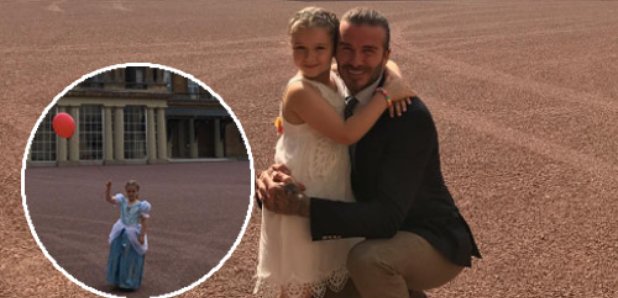 David and Victoria Beckham have been brought under scrutiny after hosting their 6-year-old's birthday party.
When you're the child of a Beckham, there's no doubt you'd be treated like a Princess on your birthday, and for Harper Beckham her famous parents pulled out all the stops to ensure her day was nothing short of special.
The six-year-old was treated to an exclusive tea party hosted at Buckingham Palace for her closest friends and family, with REAL life Princess Beatrice in attendance.
The lavish affair was well documented across David and Victoria's social media throughout the day, with various pictures detailing every aspect of the lavish do.
On Monday, David took to Instagram to share photos taken in the grounds of the royal residence, with his daughter dressed for the occasion in her Frozen-inspired Elsa dress.
The photo was quickly met with backlash from fans who criticised their lavish choice of gift, with other claiming the Beckhams were being given special treatment, with one fuming: "If you have enough money you can buy anything!!"
"Is this a new commercial venture by the Royal family or do all little princesses now get an invite?" said a second.
A third wrote: "Party at Bucks Palace? Don't think they'd let me do that."
A spokesperson for Buckingham Palace was forced to defend the occasion in a statement.
Speaking to Daily Mirror, they said: "From time to time members of the royal family who reside at royal residences invite guests to visit them privately."
It was later revealed that the swanky tea party was hosted for a small group of people by the Duchess of York but it wasn't an official engagement. As such the costs shouldn't have been met by the taxpayer.
A royal insider reportedly told The Sun that it was an unusual move by Fergie, sharing: "I can't remember an occasion when she actually hosted something at Buckingham Palace.
"So it's an extraordinary situation, especially seeing there doesn't appear to be a charity involved."
While another source added to MailOnline that the party was "a real treat for Harper and some of her friends."
After sparking outrage from fans, David Beckham was forced to defend himself by making clear that there were other guests in attendance and it wasn't held exclusively for Harper and her friends.
"Just to be clear this wasn't the palace opening the gates for Harper's birthday party, this was a tea party where us and other guests were invited so it was a beautiful thing to do with my mum, Harper plus a few school friends," David wrote on Instagram.
"We were honoured to be able to there, beautiful tea party."
Well, it looked fabulous! Hopefully we can snag an invite next time.