Everything We Know So Far About The Upcoming Harry Styles Film 'Dunkirk'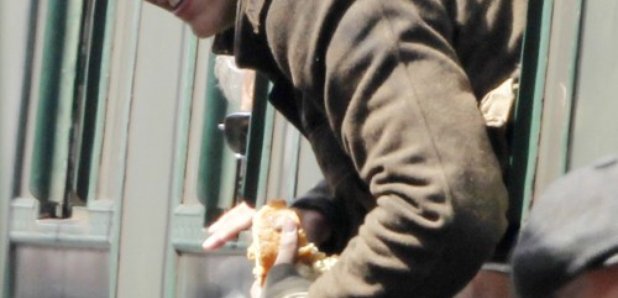 Your one-stop for information about the One Direction star's big acting role.
That's right, One Direction heartthrob Harry Styles is appearing in a new blockbuster film this summer. Here's everything you need to know...


What Is The Harry Styles Film Dunkirk About?
This is obviously a stupid question, but it seems some viewers need to get to grips with their history books, as the trailer cause a small furore upon release, because some young fans commented that they didn't know what Dunkirk was. It tell the WWII tale of British, French and Belgian socials evacuated from Dunkirk to escape from the Nazis. The endeavour to rescue 300,000 soldiers is known as Operation Dynamo.
In his "We shall fight them on the beaches" speech, Winston Churchill described the evacuation as "a miracle of deliverance".
Happy Birthday to one of our heroes, both on screen and off. @harry_styles #HappyBirthdayHarry #dunkirk pic.twitter.com/0tzjGUHNvc

— Dunkirk. (@DunkirkPromo) February 1, 2017
It's been reported that the film is set across two difference locations.
Is there a trailer?
There is – and here it be.With over 18 million YouTube views, it suggests excitement about the film is high indeed, and you'll be hard pushed to hear one character says, "You can practically see it from here – home", without being moved.
A new trailer was also released on Friday May 5. There's not quite as much Harry Styles as we'd like in the clip, but it certianly makes the film look FANTASTIC.
Who has directed the film?
It's been made by acclaimed filmmaker Christopher Nolan (below), the man behind The Dark Knight trilogy and Inception. Needless to say, the man knows a thing or two about making absolutely amazing movies.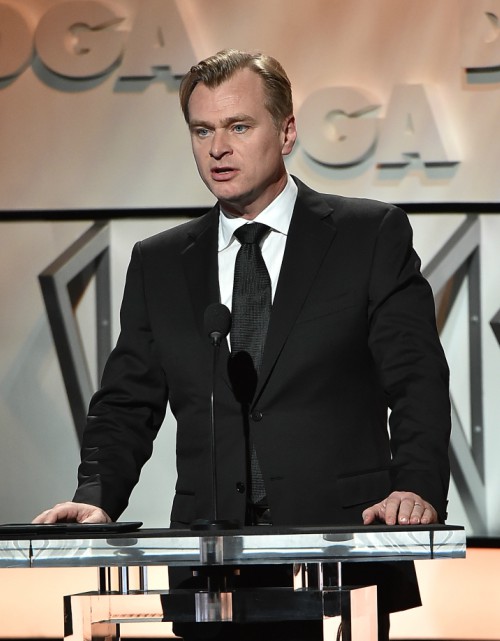 Is Harry Styles an actor?
He is now! This will the pop star's first acting role, and some might expect him to be a bit green around the gills, but emerging thespian has the seal of approval from a big name. Acclaimed BFG actor Mark Rylance, who stars alongside Harry, has explained that the singer has a "gift".
He also said: "What's really surprised me is he's really witty, really funny - he really makes me laugh. He's been ever so brave, not making any fuss.
Rylance added: "He seems remarkable ... one of those people who has – Sean Penn has it too – a kind of panache. I look at them and think, 'How did you get that? How do you get so that life is easy?' But he has got a lovely, lovely character."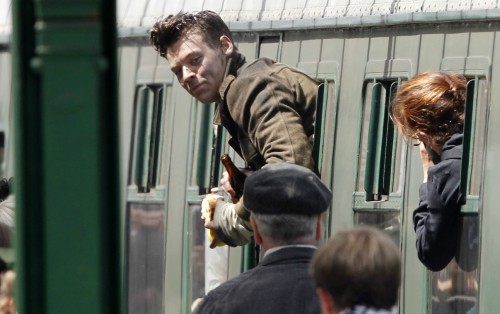 Who else is in Dunkirk?
As well as Rylance, the film will feature Tom Hardy, Cillian Murphy, Kenneth Brannagh and James D'Arcy from Broadchurch. So, Harry's joining some serious talent here, but we're sure he's got the chops to stand alongside them.
Will Dunkirk feature realistic depictions of battle?
Darn tootin'. The movie won't be an easy watch but it promises to be a thought-provoking one. Speaking at a CinemaCon event in Las Vegas recently, Nolan said: "I wanted to tell the story in the most visceral way possible, I wanted to take that audience and put them on that beach. At its heart, it's a survival story. The enemy is closing in on the British on this beach with no escape. I wanted to put the audience in the story."
The film will be screened on IMAX cinemas in the US because it was filmed in a wide format. Nolan told the CinemaCon audience that this was significant: "This is the first time we're using IMAX cameras to their full effect. Most important to say here is this is a story that needs to carry you through the suspenseful situation and I make you feel like you are there."
Nolan revealed that the story of Dunkirk has fascinated him since childhood: "Dunkirk and the legend of it is something that British people grow up with – it's in our DNA. The idea of taking this paradoxical situation and putting it on the big screen – it's something that's been close to my heart for some time, it's something I didn't think I was ready to do."
Who will Harry Styles' character be?
Harry's character was kept under wraps at first, but information was released during at the CinemaCon event. We learned that Harry is a young soldier trying help an injured comrade cross a bridge.
Who will Tom Hardy's character be?
Hardy plays a fighter pilot who takes on the german army in the air.
Besides the trailer, have any other clips been revealed?
An exclusive clip was screened at Cinemacon, though it has yet to reach the wider world. But it looks like it made an impact, if the reaction on Twitter is anything to go by:
Christopher Nolan presented a shortened version of the Dunkirk IMAX sequence. Still intense. #cinemacon

— Peter Sciretta (@slashfilm) March 30, 2017
The @dunkirkmovie footage I saw at @cinemacon was engaging and immersive! This looks to another amazing film from #ChristopherNolan

— Drewbles (@TheDrewbles) March 30, 2017
After that footage, #Dunkirk just locked up Most Anticipated of the Year slot. #CinemaCon2017

— Gordon S. Miller (@ElBicho_CS) March 30, 2017
According to reports, the clip shows two characters attempting to help a wounded soldier across a bridge – you can bet Styles features there. Apparently we also see Mark Rylance's character commandeering a boat as he approached a battleship out at sea, while Tom Hardy's fighter pilot attempts to see of German soldiers in the sky.
The Hollywood Reporter
has said that the scene features an insistent ticking sound,
"creating tension that promises to lead to an explosive moment." The scene received a standing ovation from the audience.
What age rating will the film have?
Young Directioners, we've some worrying news for you: you might not be able to watch Dunkirk. Given the gravity of the subject matter, that's understandable, but that doesn't mean there won't be a lot of youngsters disappointed that they won't be able to see Harry in action on the big screen.
The British Board Of Film Classification (BBFC) has yet to pass a rating, but Dunkirk has received a PG-13 in America, which means children can see the film, but only if accompanied by an adult. This suggests is could receive a 12 or 15 rating in the UK.
Alternatively, it could receive a 12A, the UK equivalent of a PG-13. For the sake of Directioners everywhere, let's all cross our fingers.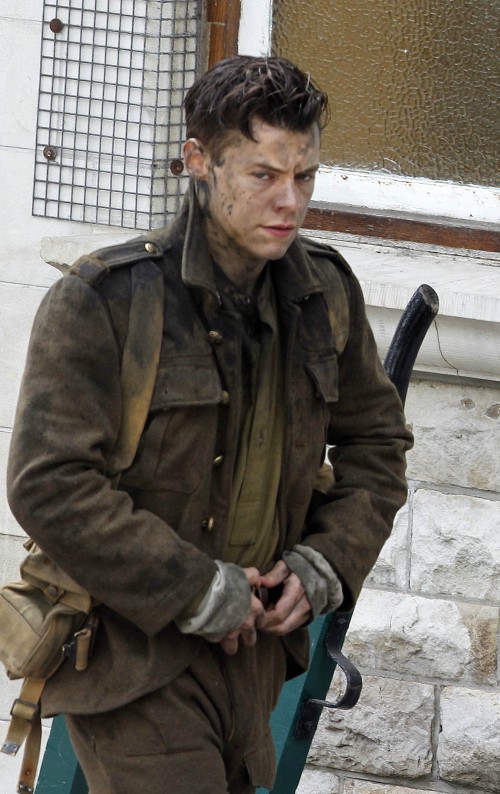 Wait, has Harry had a makeover for the role?
Those luscious locks are gone in favour of a cropped 'do, as was the style at the time in which the film is set. Here's a fairly comprehensive collection of snaps of his new look.
Harry Styles:
Pelicula: Dunkirk
Basada: 2da guerra mundial
Actor: Alex/soldado
Premios: Futuro ganador de Oscars
Puntaje: 200 de 10 pic.twitter.com/HZUGzEglmO

— sig,, (@hxrrylslou) February 25, 2017
When is Dunkirk released?
Get to your local cinema on 21 July 2017 to see Harry in action.