Ariana Grande, Take That, Coldplay And More UNITE for One Love Manchester Concert
4 June 2017, 18:44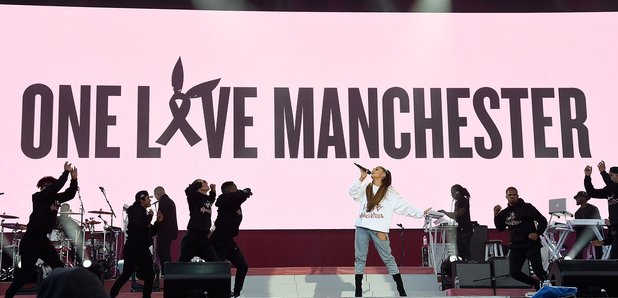 Ariana makes brave comeback to Manchester for a star-studded night where "Love Wins!".
On Sunday 4th June, Manchester and the world stood strong together for a night of unity, music and love.
To Donate To The Manchester Emergency Fund Click
HERE
Catch up on all the moments you missed at One Love Manchester.
The stage is set. We come together to stand strong through music. We'll have live coverage on Heart #OneLoveManchester pic.twitter.com/7qzFRrjHOd

— Heart (@thisisheart) June 4, 2017
We are a go! Let's come together for a night of music and unity #OneLoveManchester pic.twitter.com/mAwcmzCqau

— Heart (@thisisheart) June 4, 2017
Ten minutes before the concert had even kicked off and already music lovers and attendees were gearing up for an emotional set.
This is literally going to be me #OneLoveManchester pic.twitter.com/FiYKi8jNN9

— Roisin (@Roisinloughran1) June 4, 2017
Following a moments silence for the 22 fallen victims, Marcus Mumford opened up the show mirroring the spirit of the events saying 'Let's not be afraid" before breaking into song singing, "We are not alone in this" to the sounds of an acoustic guitar.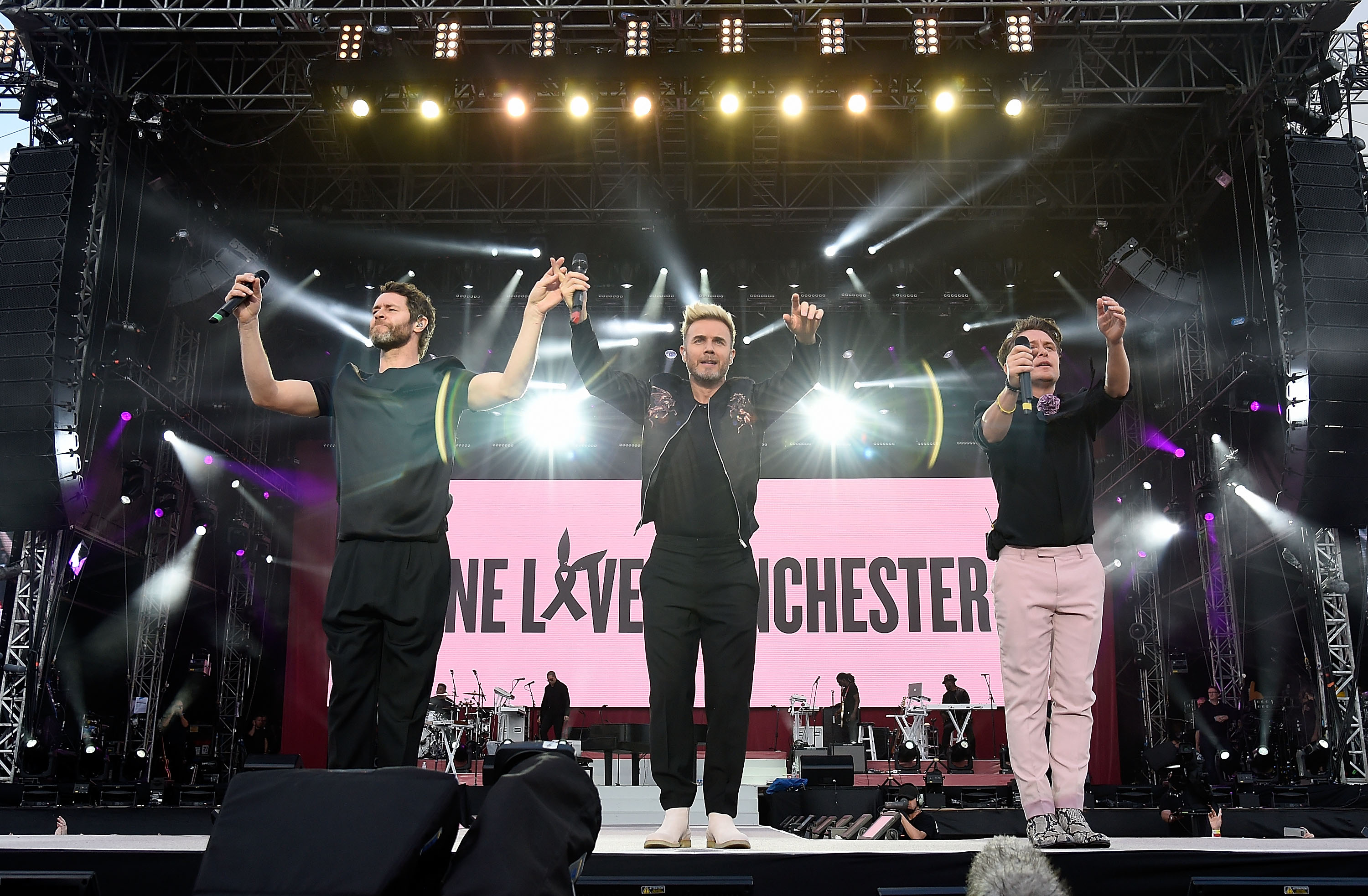 Then the crowd roared as Take That came to the stage to lift the crowds spirits with a rendition of Shine and Giants, holding up peace signs to the crowd before bringing the magic with Rule The World.
Great to see Take That & @robbiewilliams rocking Old Trafford. We go back a long way... they've just aged a lot better. #OneLoveManchester pic.twitter.com/t13W0zq3Vi

— Piers Morgan (@piersmorgan) June 4, 2017
And just when you thought it couldn't get any better, Gary Barlow introduced ex-bandmate Robbie Williams who got the crowd defiantly chanting a special rendition of his song Strong.
A time to hug and never forget. @robbiewilliams and @OfficialMarkO embrace on the stage at #OneLoveManchester https://t.co/enWZAShZjE pic.twitter.com/xY9DAVelgQ

— Heart (@thisisheart) June 4, 2017
"Manchester, we're strong, we're strong. We're still singing our song, our song our song"
It's not until the Mancunian star's second song of Angels that the crowd hold up signs emblazoned 'For Our Angels' whilst singing the hit word for word.
Robbie Williams singing Angels is giving me goosebumps
So powerful #OneLoveManchester

— Tim Dowse (@Mcdefinition1) June 4, 2017
Watching @robbiewilliams doing "Angels" so powerful! #OneLoveManchester

— Toby Anstis (@tobyanstis) June 4, 2017
After a short message of positivity from U2's Bono, the crowd screams as Pharrell takes over the stage rocking a forest green jumper and checkered pants with two dancers for a performance of Lucky before bringing on pop princess Miley Cyrus for a collaborative rendition of Happy sending the crowd into fits of dancing and cheering.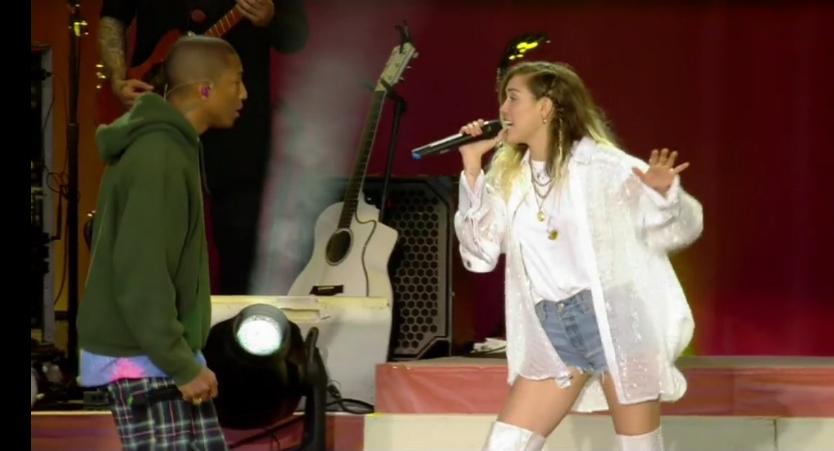 MILEY AND PHARRELL SINGING HAPPY TOGETHER #OneLoveManchester pic.twitter.com/7GgAd8e0cr

— fluff (@KambachFluff) June 4, 2017
As Pharrell exits the stage, Miley remains, taking to the mic for an emotional live version of her song Inspired, as the members of the crowd shed tears and comforted each other. As the 24-year-old singer echoed the lyrics "I Hope You Feel Inspired" whilst opening up her performance saying "The most important responsibility we have is to take care of one another. Look what we're doing today".
"Is anyone watching us down here?" - Miley Cyrus #OneLoveManchester pic.twitter.com/UTZ5DsQcIv

— xoxo, Gaga (@xoxo_gaga_) June 4, 2017
The singer's voice cracks on the last line of the song before she hands the stage over to One Directions' Niall Horan.
Wearing a bowler hat and strumming on his acoustic guitar, the One Direction member sings his new solo track This Town making way for the main act and organiser of tonight's event, Ariana Grande.
As the soulful singer, whose concert on the 22nd of May was overshadowed by a merciless bomb attack, took to the stage the 23-year-old stood side-by-side and hand-in-hand with her dancers in unity with the crowd as she sang her first song of the night Be Alright, rocking customised 'One Love Manchester' sweatshirts.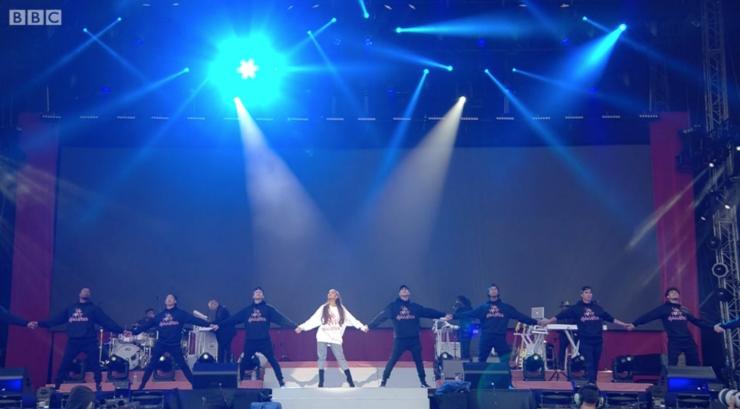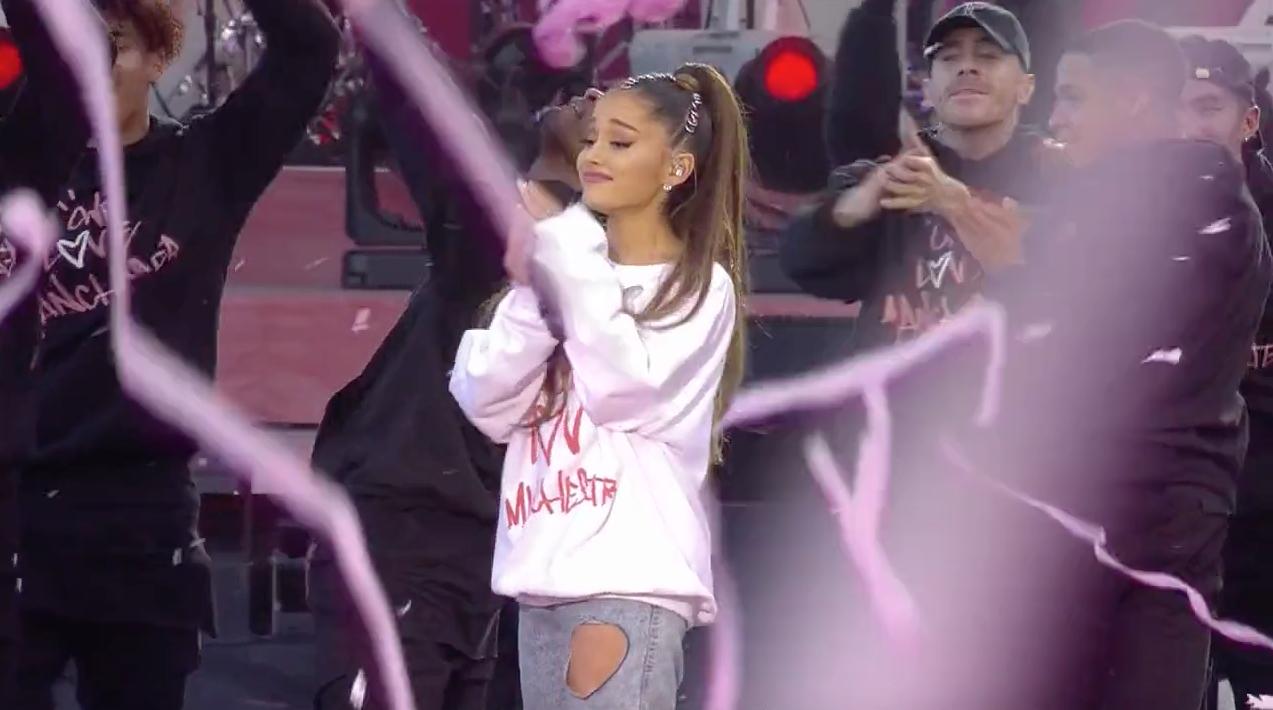 As the pop star's second song came to a close, pink ribbons flooded the sky where the crowd stands, reflecting the bright spirit of Manchester in the face of tragedy.
As Ariana left the stage in tears, the living legend Stevie Wonder appeared on the big screen showing support for the watching crowd in Manchester.
"We all know that love is truly the key, I don't care what ethnicity you are, what religion you are, love really is the way"
Stevie sang a timely rendition of his classic 'Love's In Need Of Love Today' dressed in a red blazer.
I loved what Stevie Wonder had to say!

— Laila Samara (@lailasamara_) June 4, 2017
Thank you #StevieWonder God is a God of love #OneLoveManchester

— Karen A Dunn (@karendunna) June 4, 2017
Taking it back to the UK, Little Mix graced the stage, opening up with a harmonious version of their song 'Wings' before bringing back the resilient spirit of the crowd with the original upbeat rhythm, marching in a line like soldiers waving their hands side-to-side in union with the audience.
After sharing the steps of the stage with fellow soulful singer Victoria Monet for mellow and touching song 'Better Days', the audience erupted once more as the Black Eyed Peas joined the stage with Ariana to sing their classic 'Where is The Love?'.
@bep join @ArianaGrande to perform #WhereIsTheLove at #OneLoveManchester. #Manchester #ArianaGrande #TheBlackEyedPeas pic.twitter.com/zCOGVOnWJC

— Global (@global) June 4, 2017
As the band send love signs to the crowd, Will.I.Am, Taboo, Apl.De.Ap, Ariana and Miley Cyrus sang hold up one finger with the crowd singing "We Only Got One Love'.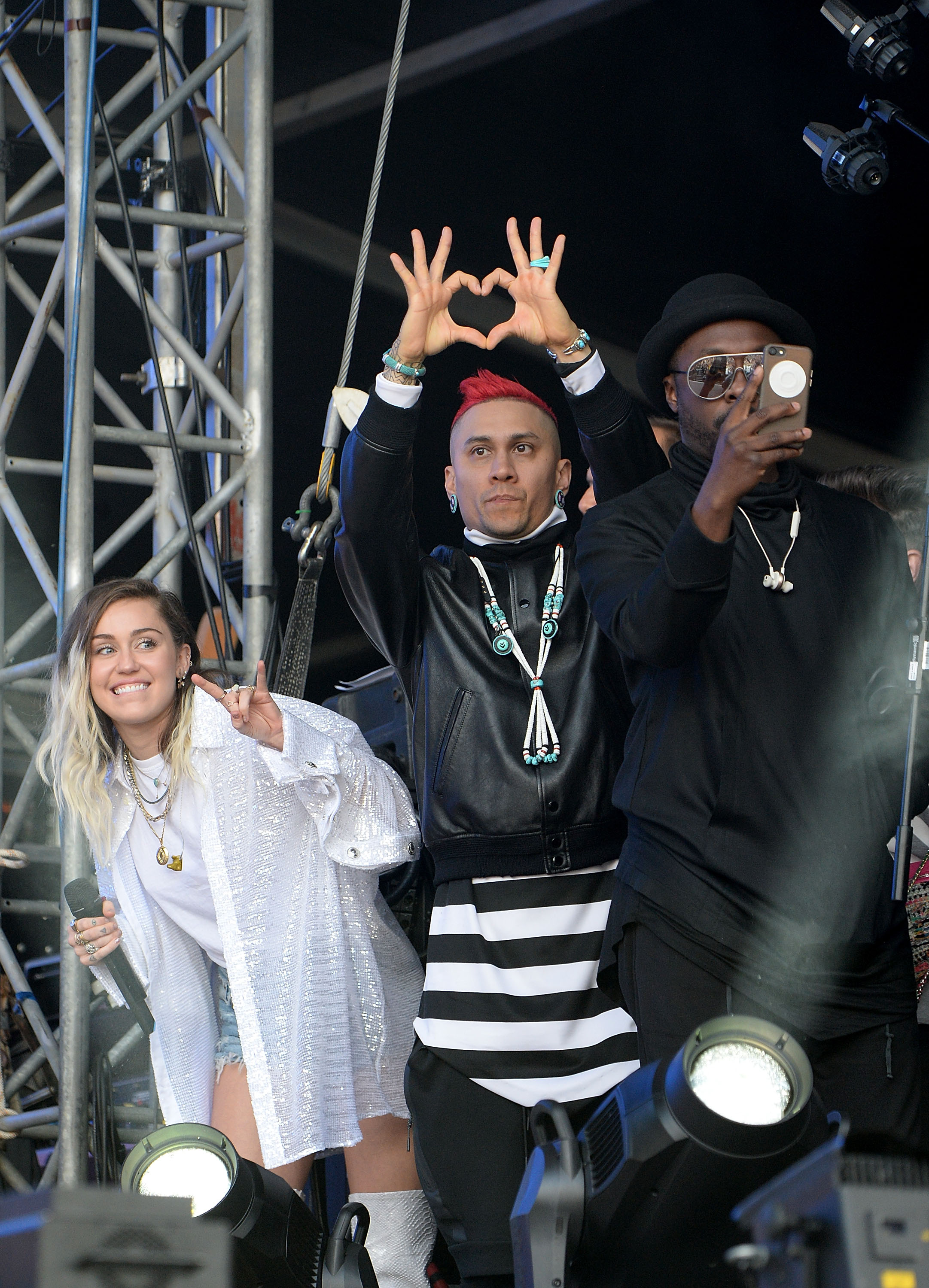 Ariana then introduced 'her idol' Imogen Heap who played a piano accompanied 'Hide and Seek' before David Beckham left a message of hope and positivity to the crowd on the big screen.
Their version of Ariana Grande's 'My Everything' has been going viral since the attack at Manchester arena, so it was only right that the Parrs Wood High School Choir where joined by Ariana to sing a very teary version of the song once more.
Not a dry eye in the house tonight #OneLoveManchester https://t.co/enWZAShZjE pic.twitter.com/c0qdAkE1iX

— Heart (@thisisheart) June 4, 2017
'Tonight is all about love, am i right?' Ariana shouts before the crowd breaks out in song.
A heartbreaking moment as @ArianaGrande sings with the Parrs Wood High School Choir, their tribute of 'My Everything' went viral. pic.twitter.com/8PrClSXsR9

— Heart (@thisisheart) June 4, 2017
As the star starts to choke with emotions, she is joined by her boyfriend rapper Mac Miller who puts a smile back on her face as they sing their joint track 'The Way' and 'Dang'. The 25-year-old lyracist cancelled his gig in Soundset and Sasquatch to be by the singer's side in support.
Mac Miller is Ariana Grande's rock and y'all can see it. #OneLoveManchester pic.twitter.com/HUap6wn40l

— Ariana Grande SA (@TeamGrandeSA) June 4, 2017
Ariana grande and Mac miller on stage performing together is just pure relationship goals!

— Jasmin Walia (@jasminwalia) June 4, 2017
As Mac Miller exits, Ariana calls her friend Miley Cyrus back to the stage to sing their version of Crowded House's 'Don't Dream It's Over' sitting on the steps again, embracing after singing the words "And you know they won't win".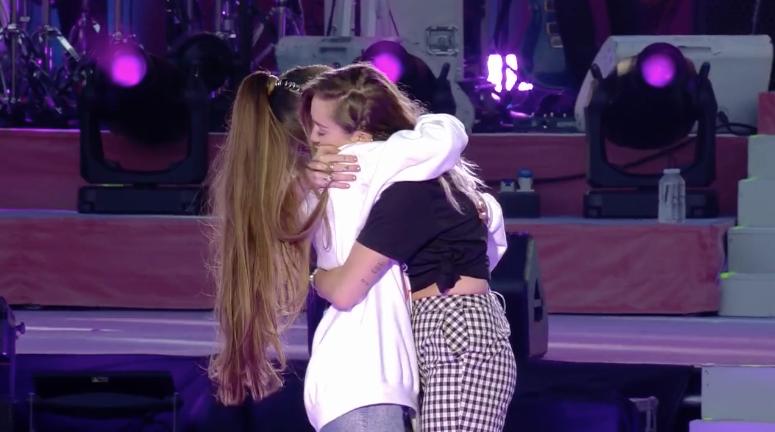 The pair walked off the stage with their arms wrapped around each other for support to make way for Katy Perry who tells the awaiting audience "It's not easy to always choose love...but love conquers fear and love conquers hate" as the crowd cheer her on in agreement.
The back of Katy Perry's dress at #OneLoveManchester was made out of pictures apparently from victims in the Manchester attacks. Incredible. pic.twitter.com/Qp4WhS17qB

— James Jarvis (@James_Jarvis) June 4, 2017
The 'Fireworks' artist then urges the crowd to touch their neighbour and tell them 'I Love You' and for first time of the night the music pauses and is replaced with the sound of chattering, laughing and the friendly northern spirit that Manchester is well known for.
#OneLoveManchester
Clouds literally opened up for @katyperry pic.twitter.com/iIqQHHZoUa

— Tyrell Pillay (@tyrellp11) June 4, 2017
After Katy Perry sings her famous songs 'Part Of Me' and 'Roar' there is slight pause...the crowd wait with anticipation for the Justin Bieber to enter the stage.
And he doesn't fail to meet the crowd's expectations, joining the stage with a guitar in hand to strum an acoustic version of his song 'Love Yourself'.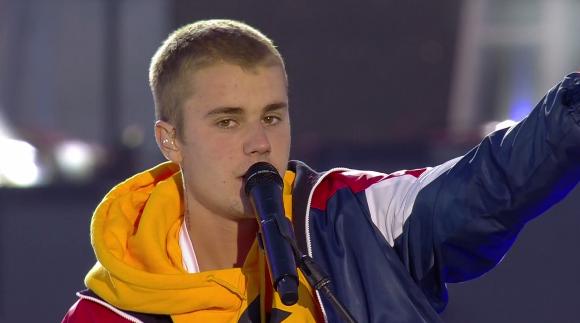 Chants of 'love' filled the arena as the Beibs egged on the crowd, raising their spirits as he jumped up and down.
The atmosphere is charged as Coldplay cover Oasis' 'Don't Look Back In Anger' to a boho backdrop of bright flashing lights, a flower-covered piano and TONS of confetti, following up the first performance with their classic hits, 'Fix You' and 'Viva La Vida'.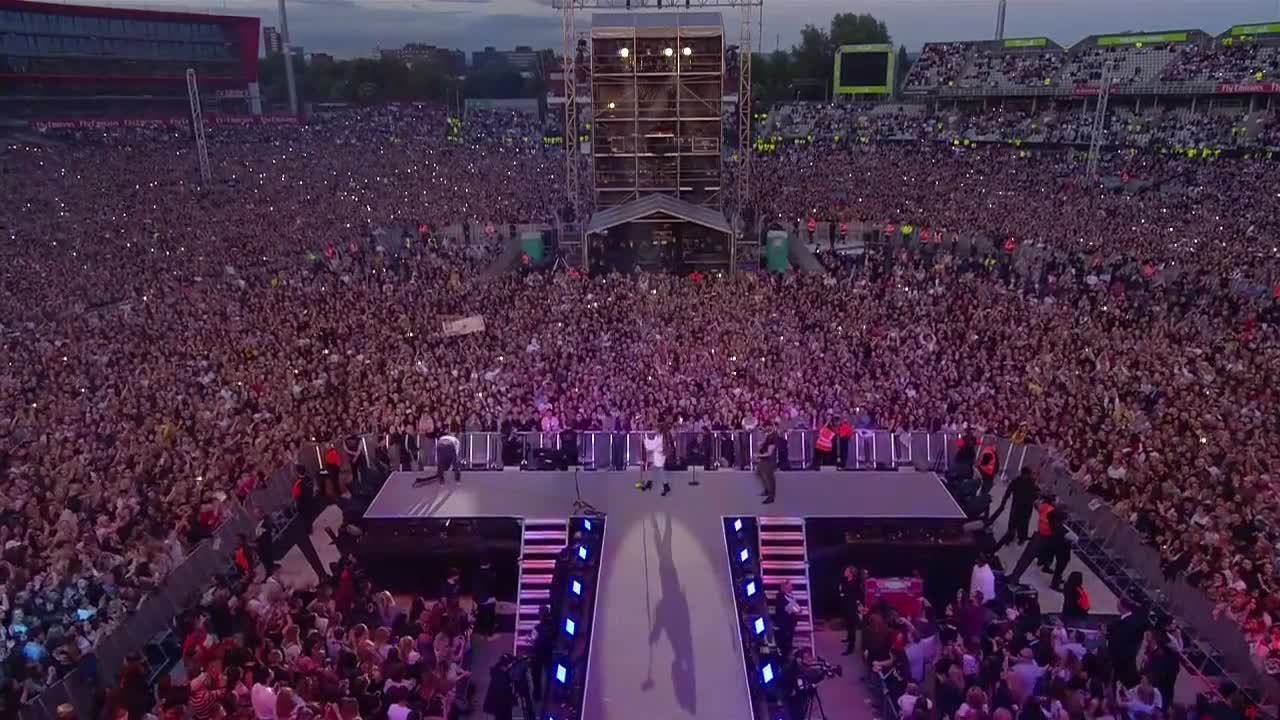 When fix you ended and viva la vida started #OneLoveManchester @coldplay pic.twitter.com/8Rejs3OWJT

— The Fashion Bible † (@ukfashionbible) June 4, 2017
Just when you thought it couldn't get any better, Coldplay were then joined by the legendary frontman of Oasis Liam Gallagher for 'Live Forever'... and Twitter went CRAZY!
That was awesome...Liam and Coldplay worked. Who'd have thought. #LIVEFOREVER #OneLoveManchester pic.twitter.com/047IUuA7j6

— Kevin Palmer (@RealKevinPalmer) June 4, 2017
The alternative rock dream. Liam Gallagher and Chris Martin together onstage. #OneLoveManchester pic.twitter.com/bI694nle1O

— Coldplay Philippines (@Coldplay_PH) June 4, 2017
In true rock fashion, Liam gave us all nostalgia playing the maracas and rocking out to the backdrop of a I Heart MCR, before throwing his tambourine into the ecstatic audience and leaving the stage.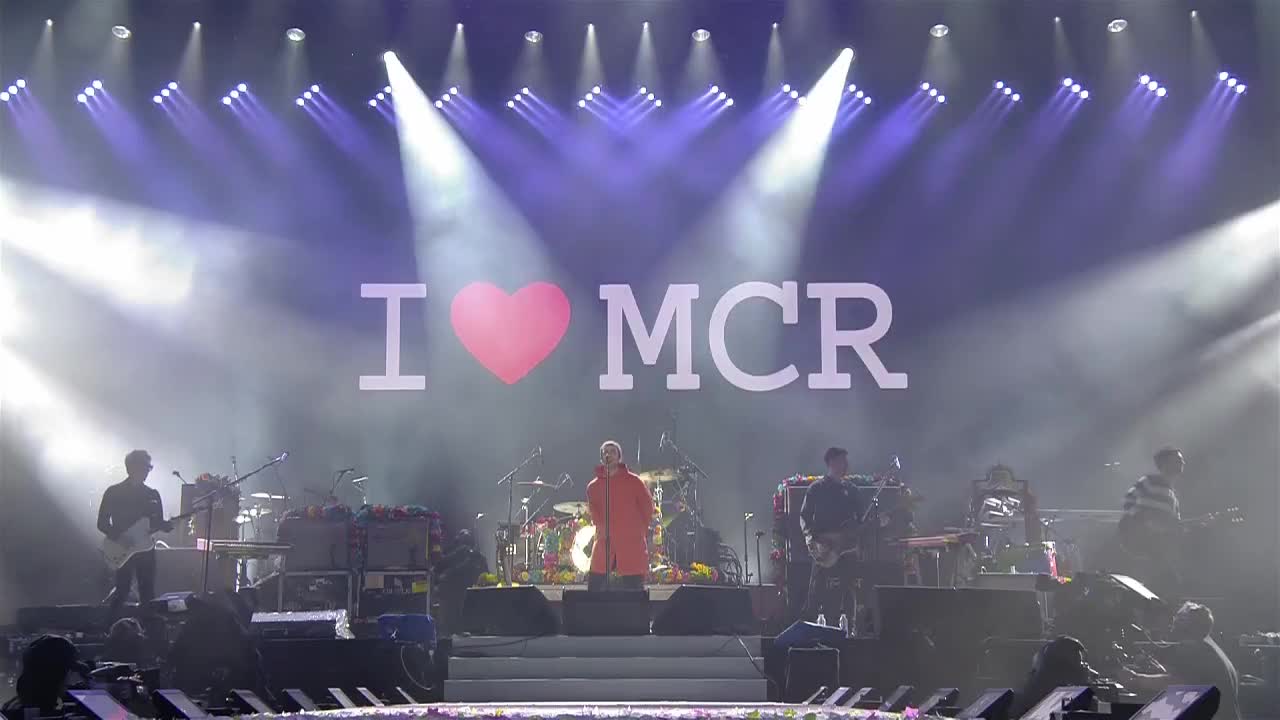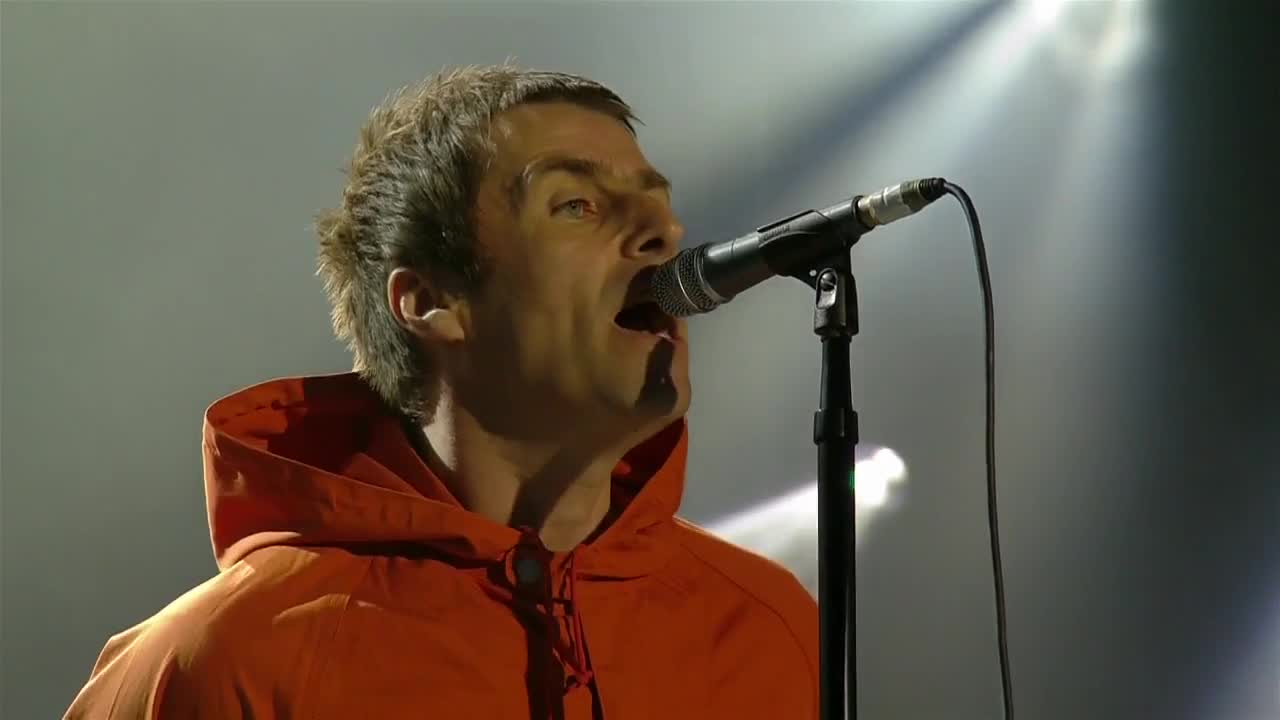 As the night drew to a close all the acts, dancers and musicians joined the stage once more for the finale as Ariana sang her hit 'One Last Time' with her peers backing her up.
Thanking the crowd while holding back tears, the night closed with a beautiful vocal filled performance from Ariana singing 'Somewhere Over the Rainbow'. Manchester stood behind the 23-year-old singer as she struggled to hold back her emotions, cheering her on as she also poured her heart out to them in song.
A rainbow over the London Bridge,

while Ariana Grande sings "somewhere over the rainbow",

Love wins. #OneLoveManchester pic.twitter.com/miExE23BW8

— Simone. (@SimoneHeartbeat) June 4, 2017
Cried at Somewhere Over The Rainbow. Such an incredibly special show. Thank you @ArianaGrande. #OneLoveManchester pic.twitter.com/V4X8pIm9T6

— Josh Baldwin (@JoshB_xx) June 4, 2017
Ariana Grande breaks down in tears during Somewhere Over The Rainbow #OneLiveManchester pic.twitter.com/rvwvspINcf

— Elliot Wagland (@elliotwagland) June 4, 2017
An emotional end to an emotional night. #OneLastTime #OneLoveManchester https://t.co/BZZ5U9qQqJ pic.twitter.com/25umlGIYe5

— Heart (@thisisheart) June 4, 2017
A beautiful ending to a heartfelt night where celebrities, victims' family and friends and supporters stood together as one.
To Donate To The Manchester Emergency Fund Click
HERE