Could America Have It's First FEMALE President? These Stars Think So.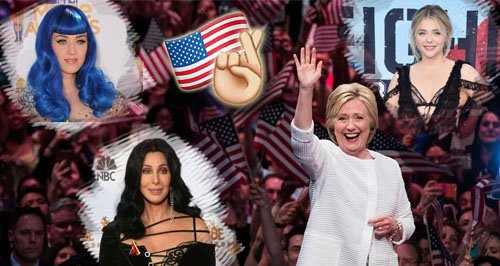 America could look set to have their very own female leader and these stars are VERY excited.
Katy Perry was among the first in a string of stars to congratulate Hilary Clinton on becoming the first American woman to be a presumptive presidential nominee.
The historical achievement sparked a frenzy in the social media world, including the 'California Girls' singer who congratulated the 68-year-old politician.
A lot of little girls are in bed right now dreaming for the first time, without limits. You broke the mold @HillaryClinton

— KATY PERRY (@katyperry) 8 June 2016
I've never been prouder to have a woman card. @HillaryClinton

— Ellen DeGeneres (@TheEllenShow) 8 June 2016
Regardless of their political views, more stars reached out to Hilary on Twitter as comedian Ellen Degenres proclaimed she'd never been prouder to be a woman, while actress Eva Longia posted a powerful poster of the presidential candidate.
Congrats @HillaryClinton on becoming the first female nominee of any major party in the US! #HistoryMade #ImWithHer pic.twitter.com/rltm43OpdE

— Eva Longoria Baston (@EvaLongoria) 8 June 2016
'Kick Ass' actress, Chloe Moretz was more than happy to share who she was voting for when Americans head to the polls in November.
To live a day in which my first vote is for a female democratic nominee to become our PRESIDENT of the United States pic.twitter.com/TjDm71Xn4W

— Chloë Grace Moretz (@ChloeGMoretz) 8 June 2016
Cher also commented on the fact she never thought she would see the day such a milestone would take place, as she revealed she thought being a female president was illegal when she was little girl.
WHEN I was young,Didn't Think woman COULD B PRESIDENT
THOUGHT IT WAS AGAINST LAW LAST NITE I CALLED HILL"MY PRESIDENT"
I THINK I'M 1ST 1

— Cher (@cher) 8 June 2016
Among those to congratulate Hilary was her husband, former American president Bill Clinton, who gave an impassioned speech abut her victory during the primary election night in Brooklyn.
"Thanks to you, we've reached a milestone," Bill gushed. "Tonight's victory is not about one person. It belongs to generations of women and men who struggled and sacrificed and made this moment possible."