Hocus Pocus Is Being Remade - But With A HUGE Difference
29 September 2017, 11:48 | Updated: 29 September 2017, 14:29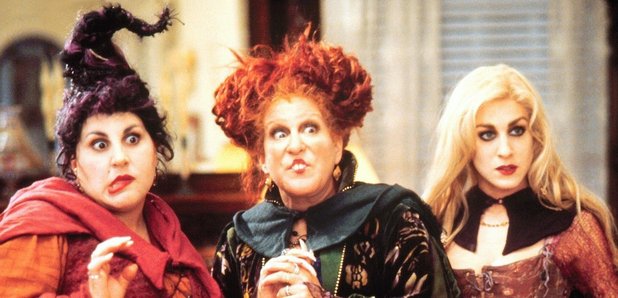 Will the remake be as magical as the original?
We've seen a lot of classic movies go through the process of a remake. Charlie and the Chocolate Factory, Annie and Ghostbusters are just a few big titles that have been given a fresh makeover recently.
And of course there's the live-action Disney movies such as Jungle Book, Beauty and the Beast, and recently confirmed Aladdin.
Some remakes have caused us to wring our hands with joy, others...not so much.
READ MORE: What's With All The Remakes? Here's Why Hollywood Can't Get Enough Of Them
And the latest title to be confirmed for a TV remake is none other than Hocus Pocus!
The original was released way back in 1993, but it's still a huge hit at Halloween, and well, all year round actually! We are yet to hear much on what the remake will entail, but one thing has been confirmed - the original cast will not be a part of it.
No Bette Midler, no Sarah Jessica Parker and no Kathy Najimy.
This could be downright magical - yet it could be a recipe (or should we say 'potion') for disaster. Arguably this trio of talent are what makes Hocus Pocus as iconic as it is.
Fans of the original have been divided in opinion on Twitter - some have already made their minds up:
I'm sorry but Disney is REMAKING Hocus Pocus!?! What needs to be remade exactly!??! Movie is a classic. We want a sequel, not a remake

— RiRi (@mariah_macaroni) September 29, 2017
Actually won't accept a hocus pocus remake, will never be as good as original

— Katie M (@Crazy__cat94) September 29, 2017
Whilst others are staying positive:
I just saw "Hocus Pocus" was being remade! I'm excited to see which direction they take it.

— Lacy Vieux (@LeShimmeringFox) September 28, 2017
....okay but I think I'm the only person tentatively excited for a hocus pocus reboot

— Kelly (@kellyamma) September 28, 2017
The remake is being referred to as a "reimagining", which suggests that it will have elements of the original that we know and love, but perhaps with a new twist to them.

Watch More: The Trailer For Pitch Perfect 3 Is Finally Here!


The cast for the new Hocus Pocus, and any word of a release date are yet to be confirmed.