Holly Willoughby And Phillip Schofield's Naughtiest Innuendos On 'This Morning'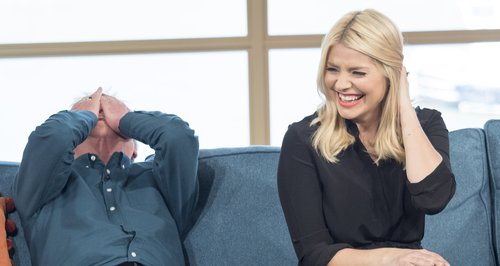 Ant and Dec might be the cheekiest chaps on telly but the award for the naughtiest TV duo has got to go to Phillip Schofield and Holly Willoughby.
No matter what day of the week, who they are interviewing or how serious the subject matter is, there's just no telling when a seemingly innocent phrase will set them off into a serious fit of the giggles.
We're celebrating the times when they try - and fail - to keep a straight face.
'Once it's in, I love it!'
Holly, who HATES mussels, agreed to eat one live on air after resident chef Gino D'acampo cooked a 'typical Sardinian dish'. Without realising it, she dropped a massive innuendo.
Miley Cyrus' Flaming Lips: 'Maybe she just needs cream!'
Phillip and Holly were on the sofa with their showbiz reporter discussing Miley Cyrus' work with the band, The Flaming Lips. It's too much for Phil...
'I've got a tinted blow job waiting for me'
Prime Suspect creator Lynda La Plante was invited on to the This Morning sofa to talk about her award-winning TV series. But an unfortunate choice of words set the TV couple off and they couldn't stop giggling. Skip to 3 minutes in to see the unfortunate moment.
'I have never gone to sleep with it in my hand!'
In a segment presented by Heart's Stephen Mulhern about people who fall asleep holding their phones, Phil's got a confession to make...
'It's the most thumbed bit'
Holly and Phillip invited author of the erotic novel Maestra, L. S. Hilton, into the studio to chat about her book. Phillip was flicking disappointedly through the novel, to which Holly said: 'Can I just say he was upset that this was a new book because normally with naughty books it opens up on the good bit naturally because that's the most thumbed bit'.
'Please can you just stay and do me?'
When a real-life Sherlock reveals Phillip's secret, he leaves Holly begging for more...
'Fork it darling'
It didn't start well when Holly asked Gino what the Italian word for 'twizzling spaghetti round a fork' was, so no wonder it ended in a fit of the giggles.
'I've never whizzed it over the kitchen'
What is it with the cooking segment of the show? It just seems to be full of the innuendos.
Oh Phil and Holly - stay classy.