Holly Willoughby Reveals She's Related To THIS Eastenders Star…
28 December 2017, 09:58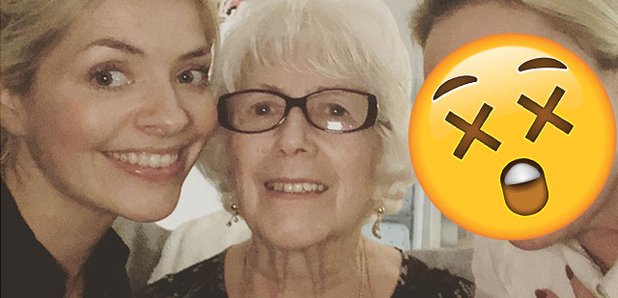 But fans are confused...
We can all count on family selfies being rife around the festive period.
Whilst many of them reveal just how much people look like their folks, or just how cute their gran might be, others like Holly Willoughby has let on that she's related to a soap star!
Taking to Instagram, Holly posted a pic posing alongside her nanny Linda and none other than Eastenders star Tamzin Outhwaite.
She captioned the image: "Me and @glamzin and our Nonna Matriarch! In true #eastenders style… faaaaamly!" She then added: "FYI.., @glamzin is my cousin".
Confused fans commented in shock with one saying: "Omg did not know this!" Whilst another asked: "She's your cousin?".
Others were quick to clarify that Tamzin is in fact Holly's husband's cousin, with one person stating: "Tamzin is Dan's (Holly's husbands) cousin not Holly's. Confused AF but whatever".
Another fan added: "She's technically your cousin-in-law!"
And a third hit back saying: "When you marry someone they become your family!!!!She is obviously proud of the fact!!!" - fair point.
Elsewhere, Tamzin is set to make a comeback on Eastenders early next year, taking up her role as Melanie Owen and giving Ian Beale the shock of his life.
Whether her and Holly are cousins, or not, one thing that's for sure is that they know how to slay a natural selfie! Looking good ladies.
Watch more: