Phew! Fans Relieved As Holly Willoughby Returns To The 'This Morning' Sofa
5 April 2017, 09:54 | Updated: 5 April 2017, 11:48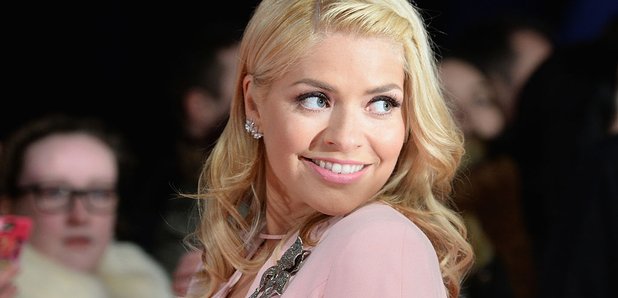 Rylan Clark-Neale had been drafted in join Philip Schofield on the 'This Morning' sofa as Holly Willoughby was absent with a mystery illness. But all is back to normal now!
Phew! Fans have been worried about Holly Willoughby who has been absent from the This Morning sofa for the past couple of days, but she's now taken to Twitter to confirm that all is A-okay.
On Monday morning, in a break from the norm, co-presenter Phil told the nation: Holly's not very well today so I've been given the most unlikely partner. I can't wait for this."
'Wake up Rylan, Holly's been sick on the cat!' Presenting with @Schofe wasn't the only surprise @Rylan got today - cue the silly string! pic.twitter.com/s85zjoUv8v

— This Morning (@thismorning) April 3, 2017
Turns out Holly's last-minute replacement was none other than Rylan Clark-Neale, who got the call at 8am and had us all in stitches with this TV appearance! Still, This Morning lovers couldn't help but wonder what had happened to Holly.
A spokesperson from This Morning said that Holly was suffering from a "sickness bug". Luckily she seems to be on the mend now, having tweeted to express her thanks to fans for their concern.
Hope your enjoying #pttw ... thank you for all your lovely messages, I'm feeling much better and will be back at @thismorning Tomorrow

— Holly Willoughby (@hollywills) April 4, 2017
The presenter appeared on last night's pre-recorded ITV show Play The Whistle and told her 7.22 million followers: "Hope your [sic] enjoying #pttw ... thank you for all your lovely messages, I'm feeling much better and will be back at @thismorning Tomorrow."
She did indeed appear back on the sofa at 10.30 am today, and Phil was all smiles on Twitter, clearly glad to have his mate back.
Normal service has been resumed! @hollywills is back for today's @thismorning

— Phillip Schofield (@Schofe) April 5, 2017
This comes after cheeky Keith Lemon appeared on the This Morning sofa to imply that Holly might be PREGNANT. Rumours had been flying around for a while and the bang tidy Celebrity Juice presenter addressed them in a characteristically naughty way, asking: "Are you pregnant? I did a lot of press last night… and everyone was saying, 'Is Holly pregnant?' I said, 'I hope not!'"
READ MORE: Holly Willoughby's Top Tip For Packing For Your Holiday - And It's Dirty

Holly brushed it off by revealing: "I get asked on a daily basis if I'm pregnant."
As Phil said of the Rylan episode, "It was a crazy, wild rollercoaster of a show" but we're still delighted to see Holly back in her rightful place on the This Morning sofa. Good to see you're feeling better, Holly!