Hollywood And The World Pays Tribute To 'Great And Powerful Princess' Carrie Fisher
The 60 year-old actress passed away yesterday following a heart attack on a flight to LA last week. The TV and film world has shared some touching tributes to the loved star, famous for her role as Princess Leia in Star Wars.
After the devastating passing of actress Carrie Fisher, many famous faces from Hollywood, including Star Wars co-stars took to social media to express their shock at losing the 60-year-old actress.
Mark Hamill who played the role of Luke Skywalker in the sic-fi-film franchise alongside her tweeted that he had "no words" and was devastated to hear the news.
Harrison Ford, who famously starred as Han Solo alongside fisher expressed his sadness at the loss of his friend Carrie Fisher.
He said in a statement: "Carrie was one-of-a-kind, brilliant, original. Funny and emotionally fearless."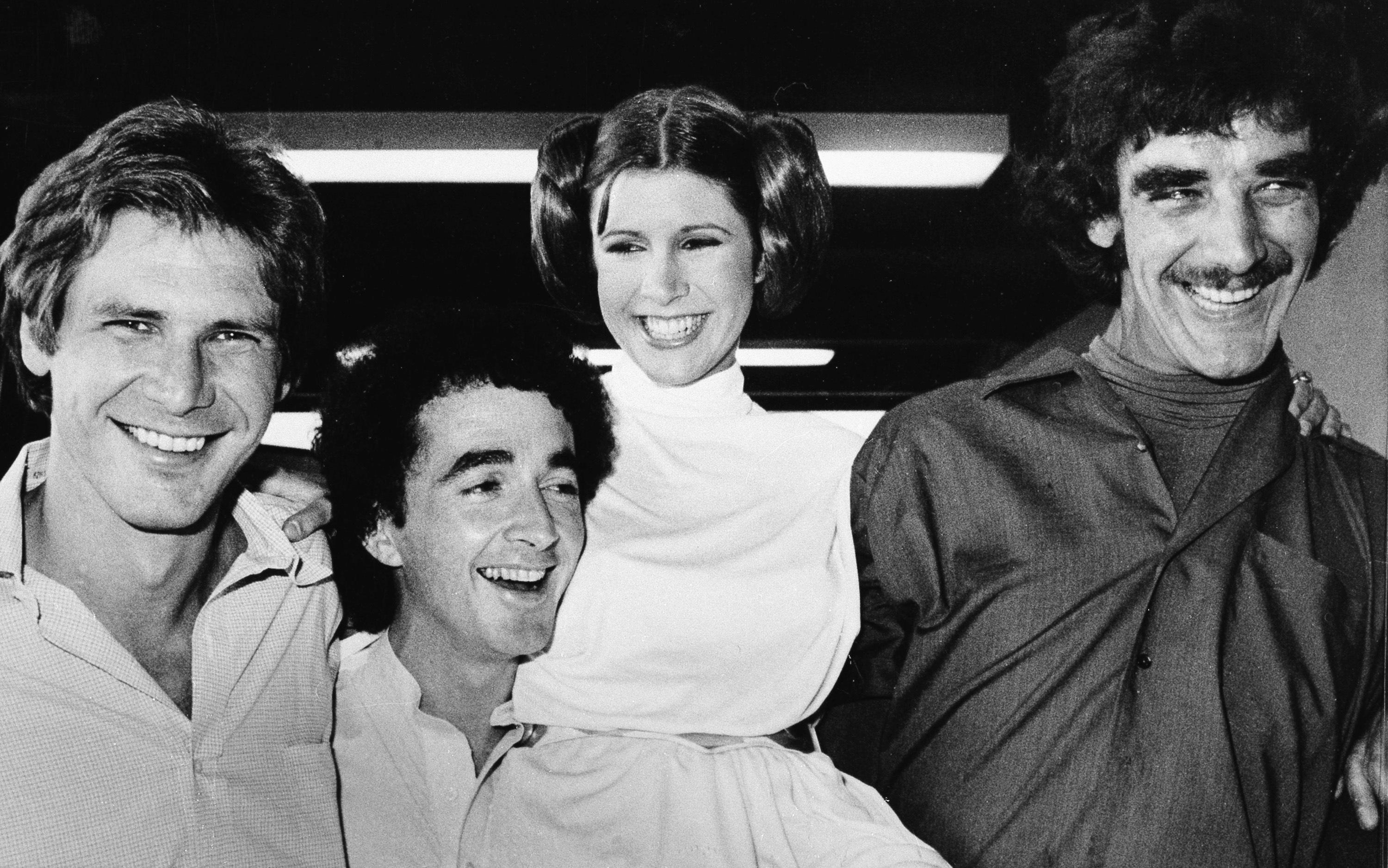 Star Wars stars Harrison Ford, Anthony Daniels, Carrie Fisher and Peter Mayhew on set in 1978 | Picture: PA
"She lived her life, bravely ... My thoughts are with her daughter Billie, her Mother Debbie, her brother Todd, and her many friends. We will all miss her."
And George Lucas - who is the creator of 'Star Wars' and chose to cast Carrie as Princess Leia in 'Star Wars: A New Hope' in 1977 - praised Carrie's "very colourful personality" and said "She was our great and powerful princess. She will be missed by all."
She is survived by her 24-year-old daughter Billie Catherine Lourd who is also an actress and stars in the US TV show Scream Queens.
Other tributes from celebrities and famous fans from around the world began to flood the internet as the news broke of her passing.
Princess Leia, @carrieffisher now one with the Force. Your kindness & sharp wit will be missed. #RIP PS: Thanks for the milk & cookies. xx pic.twitter.com/sFSy9UmvYY

— Warwick Davis (@WarwickADavis) December 27, 2016
Carrie Fisher wore glitter in her hair. When I said I liked it, she ran her fingers through it and lobbed a handful at me. #TheGreatest pic.twitter.com/T7NWGdJp8w

— Anna Kendrick (@AnnaKendrick47) December 27, 2016
Carrie Fisher has passed, she was funnier&smarter than anyone had the right to be. Sail On Silver Girl. Condolences Debbie & Billie
R.I.P.

— Whoopi Goldberg (@WhoopiGoldberg) December 27, 2016
She was the brightest, funniest, bravest, kindest, cleverest and sweetest person I ever knew. A crushing blow to lose @carrieffisher

— Stephen Fry (@stephenfry) December 27, 2016
Rest In Peace Carrie Fisher, 1956-2016