Ivanka Trump Makes Instagram Giggle With Birthday Blunder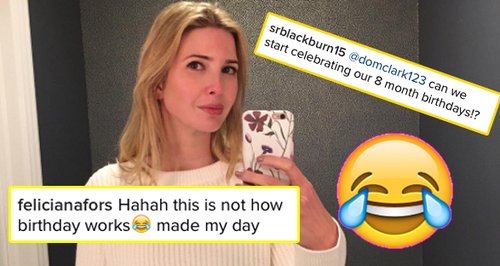 Ivanka Trump posted a cute picture of her baby son on Instagram but got one vital piece of information WRONG! Get ready to cringe...
Ivanka Trump just can't do anything right at the moment.
Her famous surname has thrust the heiress and working mum into the spotlight more than ever... but that hasn't stopped her from making some weird gaffs on social media.
Ivanka's latest howler can be found on Instagram, specifically a caption on a picture of her super cute son Theodore.
The little lad is just eight months old, which is why a few eyebrows were raised when Ivanka wished him a 'happy birthday'!
Errmmm, what? Check out the post for yourself below...

Of course, the trolls of the internet had a field day, accusing Ivanka of not understanding basic maths or even the concept of birthdays!
Others rushed to her defence, noting that in a child's first year it's lovely to celebrate each month as a birthday of sorts as they're changing so much and growing fast.
Ivanka later took to Twitter to say the exact same thing...
Lol. Of course, you are right! Only in a baby's first year of life would a parent "celebrate" a child's birthday on a monthly basis! https://t.co/jsDWkWHeEW

— Ivanka Trump (@IvankaTrump) November 27, 2016
The 35-year-old and her husband Jared Kushner, also 35, regularly share pictures of their children on social media, including Arabella, 5, Joseph, 3, and little 'Teddy'.
We'll definitely be seeing more of them when her father Donald becomes President of the United States next year!
What do you think of the gaff? Weird or just taken out of context?