Jacqueline Jossa says she will 'always love' Dan Osborne in gushing Instagram post
12 September 2018, 17:16 | Updated: 19 October 2018, 18:58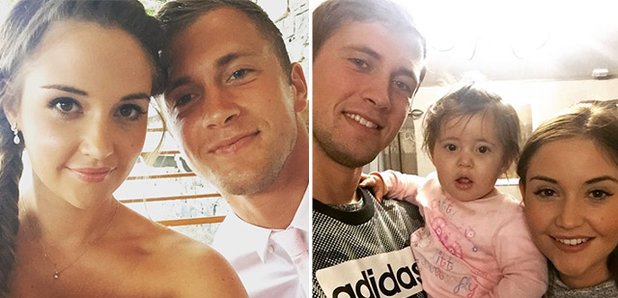 The former Eastenders actress wrote a gushing post about her estranged husband Dan, following his exit from the Celebrity Big Brother house.
Jaqueline Jossa has given the biggest hint yet that she's willing to fix her 14-month marriage to Dan Osborne.
The 25-year-old actress posted a picture of the moment the ex TOWIE star reunited with their baby girl, Mia, in a sweet post.
She added the caption: "It's so good to have this man back. My girls were so excited to see daddy. He done so well.
"Ups and downs, laughter and tears. I love you. Always."
Jacqueline went through a rough patch in her relationship with Dan earlier this year when he was accused of cheating with CBB co-star Gabby Allen, which resulted in the pair spending time apart and ditching their wedding rings.
The news comes after Dan revealed hinted he is hoping to give his marriage another go, after an emotional phone call with Jacqueline.
He told The Sun Online: "I spoke to Jac last night and I told her I loved her.
"She said well done for the show. I've not seen her yet, I just really want to see the kids too. It was tough in there without them."
He added: "Children are a blessing. I'd like nine or TEN. Just kidding.. but in the future."
Sally Morgan previously told Dan that he and Jacqueline would go on to have two more children.
And he hinted that Rodrigo Alves was removed for performing a mysterious lewd act that he was very uncomfortable with.