Is This The Reason Jacqueline Jossa Is Leaving Eastenders?
15 January 2018, 18:06 | Updated: 19 October 2018, 19:01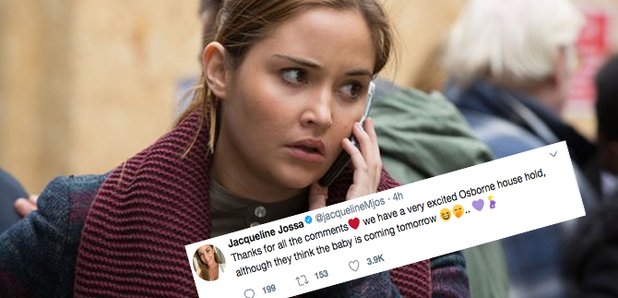 Jacqueline Jossa makes a huge announcement ahead of her final scenes in Albert Square.
It's been a whirlwhind few months for Jacqueline Jossa.
Fans were left reeling when it was announced last year that Jacqueline would be hanging up her boots as Lauren Branning and leaving Albert Aquare for good.
Now with her final scenes set to air in the coming weeks, fans have been treated to another bombshell... Jacqueline's pregnant!
The famed Eastenders actress announced on Monday that she is expecting her second child with husband and former TOWIE star Dan Osbourne.
Turns out that Jacqueline has already been making way with her next steps after turning her back on the small screen, as she plans to extend her family.
The couple, who already have two-year-old daughter Ella together along with Dan's four-year-old son Teddy from a previous relationship, said the pregnancy came as a huge shock and Jacqueline even took a test three times to confirm.
"We both started laughing when the test was positive," she told OK! magazine.
Dan added: "We hadn't been trying so it was a huge shock. I think I'm still getting my head around it. Kids are a blessing but having three children is going to be a big responsibility. I'm not going to lie, I feel quite scared!"
Meanwhile, Jacqueline touched on her exit from Eastenders and recently admitted her shock at being written out of the script.
Jacqueline, who played Abi Branning on EastEnders from 2010 up until this Christmas, recently admitted her disappointment to being written out of the soap.
According to the soap star it wasn't her and Lorna Fitzgerald's decision to leave the show, and confessed they'd rung each other in a panic after reading their scripts.
"It wasn't our decision but we kind of knew ages ago. We had a feeling," Jacqueline told Mirror Online.
"From that point we've just been guessing how we're leaving. The thing is it's a soap and you can't stay there forever, you wouldn't want to, as an actress you don't just want to do one thing your whole life.
"It's almost like a polite push out of the door but I think we're both ready."