James Blunt Claims Ed Sheeran LIED About Princess Beatrice Face-Cutting Story
10 March 2017, 12:24 | Updated: 10 March 2017, 12:43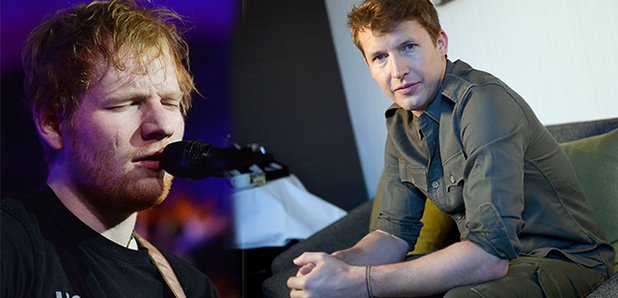 Remember the story of how Princess Beatrice sliced Ed Sheeran's face with a sword? Well, James Blunt is claiming it's fake news. All aboard the banter bus!
James Blunt claims he and Ed Sheeran made up the story about Princess Beatrice cutting Ed's face with a sword.
The pair hit the headlines in November when it was reported that 26-year-old singer Ed had been struck in the face with a sharp weapon by the royal as she was pretending to 'knight' fellow musician James at a party at the Royal Lodge in Windsor.

Ed Sheeran and James Blunt are good friends. Picture | PA
Now, the 'You're Beautiful' hitmaker has claimed they fabricated the story in order to cover up the fact that Ed had simply cut himself whilst drunk.
The 43-year-old musician said: "Ed was drunk, messing around, and he cut himself. We made a fancy story up; people fell for it. It was very embarrassing."
And asked how much of the story involving the 'Castle on the Hill' hitmaker and 28-year-old Beatrice was made up, James told ShortList magazine: "All of it!"
Meanwhile, the 'Shape of You' singer previously said he wasn't aware of the extent of his injury - which has left him with a scar on his face - until he noticed his shirt was "completely covered in blood."
He said previously: "I got hit in the face and I was like, all right, OK, and then started carrying on and then I looked down at my shirt and it was just completely covered in blood.
"And everyone was kind of gaping open-mouthed at me. What have I got a nosebleed or something? What's happened?"
Ed has also refused to comment on the subject in the past, after claiming he wasn't sure if he was allowed to talk about it.
He said during an appearance on BBC Radio 1 in January: "Yeah... there's... I don't know if I can talk about that, you know."
And now we know why!