James Corden and Anne Hathway Perform 12 Song Musical With NO CUTS
21 April 2017, 15:49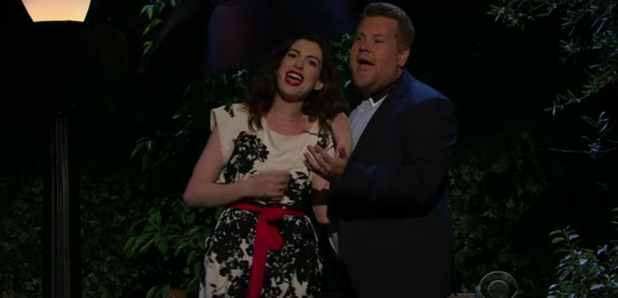 The stakes were high but the stars pulled off the amazing theatrical feat.
James Corden is one of the greatest exports in British showbiz. Anne Hathaway is one of the world's hottest actresses. Together, they're a force to be reckoned with.
The Late Late Show host invited the Les Misérables star onto the set of his smash-hit US chat show, where they embarked on a very special mission: to create a great big musical rom-com, charting the highs and lows of a relationship, through 12 songs, nine sets – and with ZERO cuts. There really was nowhere to hide if something went wrong in the skit. Thankfully, it went down like an absolute dream, drawing a raucous response from the audience
.
Of course, having wowed crowds in the film version of Les Mis, it's to be expected that Anne Hathaway is a fantastic singer and dancer. But James Corden more than matched her ability, crooning soft love songs to the actress and busting more than a few moves.
We had tunes from Footloose, Sixpence None the Richer, Biz Markie, Jason Mraz and Al Green, while the relationship charted the characters' meet-cute, Honeymoon period, first row and… well, we'll let you see for yourselves.
This comes after the new that James, who recently sang with Victoria Beckham on his popular segment 'Carpool Karaoke, is to bring The Late Late Show to the UK.
We can't wait to see what happens! Because his rom-com skit is sure going to take some beating…