WATCH: James Corden Goes All British In This Audition Clip For Bridget Jones's Baby!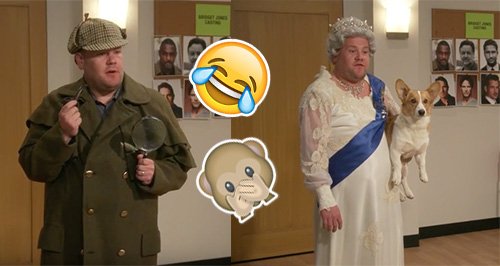 See The Late Late Show host leave Renée Zellweger speechless as he auditions to be the new Hugh Grant!
We're so used to James Corden's hilarious antics now he's stateside.
Carpool Karaoke makes us LOL hard every time we see a new celeb hop in the car with James, but this latest skit could be our new favourite.
With the release of new chick flick, Bridget Jones's Baby, Renée Zellweger is on the hunt for a new Brit actor to play her love interest.
One of the men in her life was previously played by Hugh Grant, and Mr Darcy will again be played by Colin Firth in the new movie...but could 39-year-old James melt our hearts and that of Bridget as the new Hugh?
See what you think...
The comedian can be seen in the clip trying give a 'British' as possible response after Renée Zellweger in character as Bridget, tells him she is pregnant.
He starts of doing a HILARIOUS Hugh Grant impression before mimicking a whole host of British film legends that get more ridiculous as the audition goes on.
Starting subtly first speaking like a Downton Abbey character before donning full chimney sweep costume and Dick Van Dyke accent all the way through to a Gandalf from Lord of the Rings costume.
Renée looks on bewildered and tries not to laugh at James' antics before hunky star of the new movie, Patrick Dempsey appears to save the day.
Don't quit your day job James!