WATCH! James Corden and Bruno Mars Talk Spanks and Undressing In This Hilarious Carpool Karaoke
Bruno Mars Carpool Karaoke
15:25
'The Late Late Show' host took the 'Uptown Funk' singer for a spin in his latest addition of the viral sketch.
James Corden has had his pick when it comes to celebrity passengers to accompany him on the way to work.
Now Bruno Mars is the latest star to get in on the action as he's went for a spin with the 'Late Late Show' host on Tuesday night.
The Grammy Award-winning star can be seen belting out his latest hit '24K Magic' with the comedian as they drive around the streets of Los Angeles whilst singing his entire back catalogue.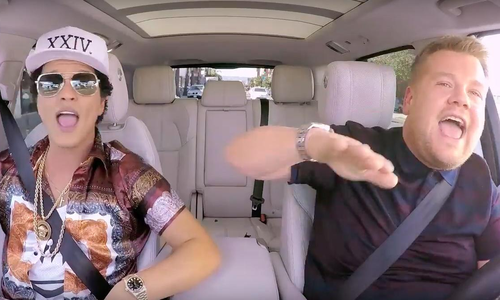 In-seat choreography is on point throughout, with the pair often wiggling their bums in their seats as they shack out to Bruno's hits.
Comedy arises when James quizzes Bruno about his flashy style, even pulling out ridiculous hats for the singer to pull off with ease.
However James is a little less able to work such outlandish items, as he jokes: "I look like the guy who's constantly waiting for his Tinder date."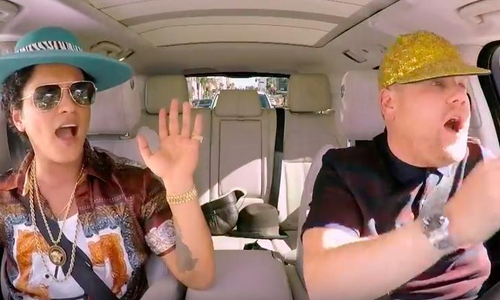 From bum shaking, to shimmying their hips, the pair show off their pair Elvis impressions after Bruno reveals he used to copy Elvis' moves from his living room at age four!
The 38-year-old host is also quick to point out the realities of Bruno's track 'Versace On The Floor' as admits undressing his wife before sexy time doesn't always go as smoothly as the hitmaker makes out.
"When i get home and my wife says 'Can you undo this?' it takes me about a good four to six minute," he explains. "By which time all the romance is gone!"
With Bruno in fits of laughter James continues: "Then you've got the spanx! You've ignored the spanks bit in the song!"
Oh we've all been there James!
Mars joins other star guests who have hitched a ride with Corden including Madonna, Britney Spears, Lady Gaga, Jennifer Lopez and Justin Bieber.