James Corden Tries To Outshine Taylor Swift As Pushy Back-Up Dancer
11 December 2017, 13:16 | Updated: 11 December 2017, 13:48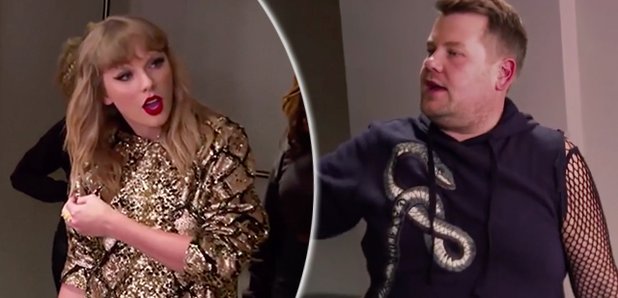 The comical presenter tried to outshine Tay-Tay during her show rehearsals.
James Corden seemingly came to Taylor Swift's 'rescue' after she had a backing dancer pull out prior to her performance.
In a recent sketch as part of his hit programme The Late Late Show, the popular presenter decided there was nothing left but to offer his services and make sure Tay-Tay wasn't left high and dry.
Corden was taking on the role of 'general manager' at a concert venue on show day, and everything seemed to be going to plan until Taylor was let down by a dancer.
Donned in a fishnet crop top which showed off his midriff, James added his own sass to Taylor's routine - but possibly not quite to the pop star's ideal vibe.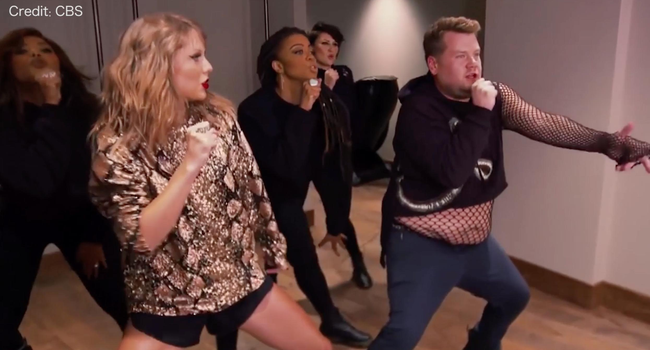 Taylor rocked her trademark look of dark winged eyeliner and bright red lips combined with her classic heavy fringe, and added some festive sparkle in a gold and black sequinned top.
Always one for a witty comeback, she threw some serious shade at Corden when she 'accidentally' revealed that he wasn't her favourite James.
In classic Corden style, James spent most of the rehearsal time trying to outshine the star - in both dance moves and singing.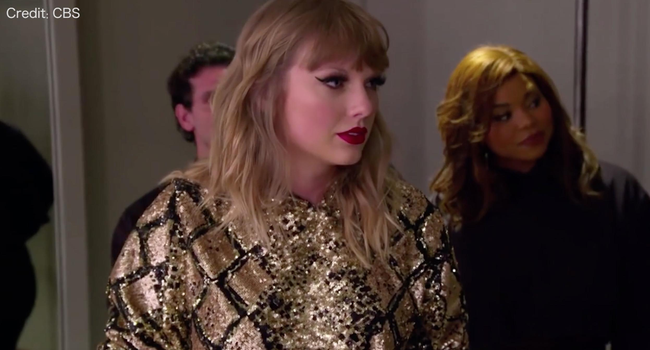 Taylor Swift had been lying low for the last few years, but has now grabbed the limelight again with both hands as she released her sassy new album 'Reputation'.
Known for writing songs based on her love life and friendship feuds, Tay-Tay's fiesty comeback song 'Look What You Made Me Do' had fans in a frenzy as they tried to decipher the MANY meanings behind the lyrics, and figure out who or what she was lashing out at.
Swifties were delighted to hear that she would be embarking on a world stadium tour next year, with U.K dates in Dublin, Manchester and London.
WATCH: You Can Watch James Corden's Full Sketch With Taylor Swift Here: