James Corden Is Joined By Victoria Beckham For Carpool Karaoke!
30 March 2017, 07:38 | Updated: 23 August 2018, 16:58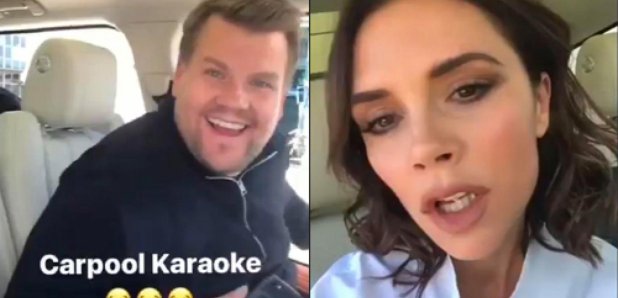 It was pouts all around as Victoria Beckham joined James Corden for a spin!
Victoria Beckham has teamed up with James Corden for an episode of Carpool Karaoke.
The 'Late Late Show' host has managed to pull the strings once again by getting Posh Spice on board for a spin his car. The pop star turned fashion designer shared a video of herself in James' famous ride where she gave fans a rare smile.
In the video, Victoria is seen beaming into the camera before panning around to show James sat in the driver's seat.
Obviously delighted by her company, The TV star couldn't stop grinning as he hopped into the driving seat and motored around town with the famous mother-of-four.
Prior to their secret shoot, Victoria shared snaps of herself getting ready for the show with her hairdresser Ken Paves.
She then told her followers: "So we're here about to film Carpool Karaoke."
Victoria has made no secret of being a huge fan of the show, and has often praised James as a genius when he managed to get Adele into his car for the slot.
It's likely the pair will sing along to some of Victoria's best Spice Girl hits and possibly some of her own tunes – including her infamous duet with Dane Bowers Out Of Your Mind.
We're so excited!