James Corden and Victoria Beckham Finally Reveal Their Mysterious "Carpool Karaoke"
31 March 2017, 11:19
Mannequin starring Victoria Beckham & James Corden
02:43
The former Spice Girl set tongues wagging that she had signed up to do Carpool Karaoke but not all is as it seems.
Victoria Beckham and James Corden have finally revealed the results of the secret video they had been filming.
The former Spice Girl set tongues wagging that she had signed up to do Carpool Karaoke, when she gave fans a behind-the-scenes look into her appearance on the 'Late Late Show' via an Instagram video clip of herself inside James' car.
However, all wasn't as it seemed when the slot aired on Thursday.
James revealed: "Victoria and I have the oddest thing in common. We are both huge fans of the '80s movie Mannequin."
The cheeky host then claimed he and Victoria were to star in a remake of the 1987 movie, which starred Andrew McCarthy and Kim Cattrall, and offered to premiere the new "trailer" for his audience.
While the outside world could only see James dancing with mannequin, Victoria portrayed the version which came to life but could only be seen by the 38-year-old comic.
The hilarious clip sees the pair dancing, with a voiceover that says: "The world couldn't understand their love.
"Like, really couldn't understand their love... No seriously, they didn't get it.
"But their love wasn't meant for this world."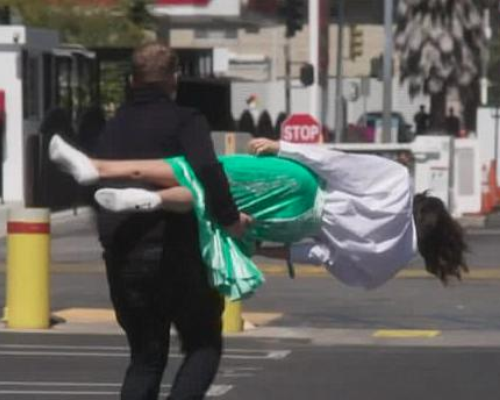 After Victoria told James she was "so lonely" and wanted to "be with others like me", her pal vowed to sacrifice his love and "get her home".
He then rushed out to his car, clutching the mannequin under his arm, before the pair were seen singing and dancing along to 'Spice Up Your Life'.
But when a passing motorist looked into the vehicle, they could only see James dancing alone while his passenger rested motionless.
The short clip ended with the presenter placing Victoria alongside other mannequins in the window of Target - where she is launching an affordable fashion line - before the group all danced together.
James and Victoria obviously has a whale of a time filming the video, as the pop star turned fashion designer shared a video of herself in James' famous ride where she gave fans a rare smile.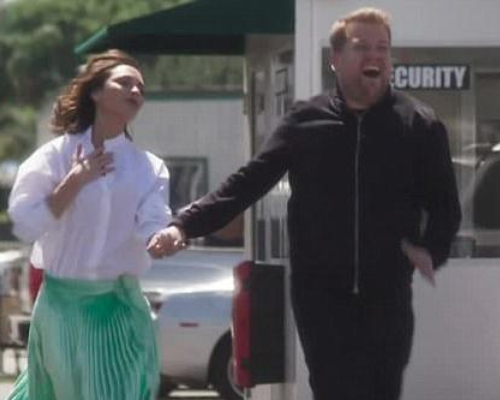 In the video, Victoria is seen beaming into the camera before panning around to show James sat in the driver's seat.
Obviously delighted by her company, The TV star couldn't stop grinning as he hopped into the driving seat and motored around town with the famous mother-of-four.
Prior to their secret shoot, Victoria shared snaps of herself getting ready for the show with her hairdresser Ken Paves.
She then told her followers: "So we're here about to film Carpool Karaoke."
Victoria has made no secret of being a huge fan of the show, and has often praised James as a genius when he managed to get Adele into his car for the slot.
It's likely the pair will sing along to some of Victoria's best Spice Girl hits and possibly some of her own tunes – including her infamous duet with Dane Bowers Out Of Your Mind.
We're so excited!