Jamie Oliver And Ed Sheeran Make Sweet Music For New Food Campaign!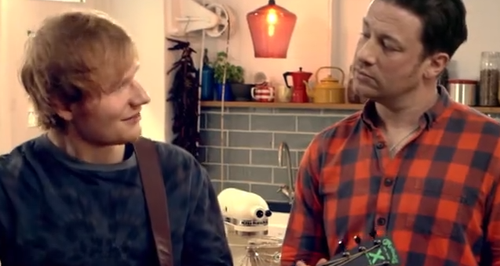 The British TV chef has teamed up with the 'Thinking Out Loud' singer in a new musical campaign to promote Food Revolution Day.
The collaboration between the Jamie Oliver and Ed Sheeran has finally been revealed, and the pair have called on a host of stars such as Hugh Jackman, Sir Paul McCartney and Professor Green to put pressure on the government to add food education to the country's school curriculum.
A video posted to Jamie's Facebook page sees Ed putting pen to paper to write a song in support of the campaign, and the TV chef describes the tune as an "anthem".
He explains: "Ed just came in to do a little bit of filming for me, to support Food Revolution Day. I start telling him a few things, writing a few things down, and then he only went and wrote an anthem."
Jamie has also launched an online petition for supporters to back his campaign and is hoping to get one million signatures.
Speaking on the campaign, Jamie said: "We're currently facing a global obesity epidemic, with 42 million children under the age of five either overweight or obese across the world.
"The bottom line is the next generation will live shorter lives than their parents if nothing is done to rectify these alarming stats.
"It's essential that we arm future generations with the life skills they urgently need in order to lead healthier, happier, more productive lives. I passionately believe this is every child's human right and I hope you agree."