Jamie Oliver, Gino D'Acampo and Nigella Lead Heart-Felt Tributes To 'Godfather Of Italian Cooking'
9 November 2017, 08:06 | Updated: 9 November 2017, 08:11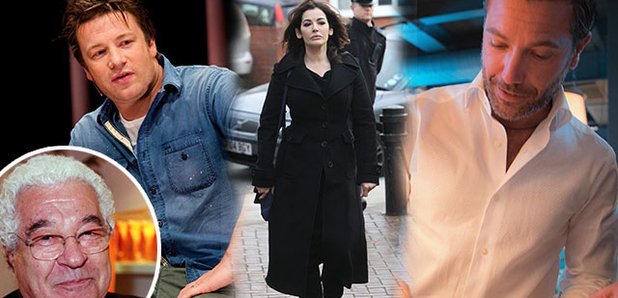 The chef and owner of the Carluccio's chain gave Jamie Oliver his first big break
Yesterday was a sad day in the world of cooking as renowned Italian chef, Antonio Carluccio, 80 passed away after a fall in his home.
Since then, a number of emotional tributes have been pouring in from the likes of Gino D'Acampo, Nigella Lawson and Jamie Oliver, whose careers were heavily influenced by the legend.
In a heart-felt Instagram post Jamie Oliver explained: "He was my first London Boss at the Neal Street restaurant 25 years ago" and described him as "a charismatic charming don of all things Italian!"
He added: "I also had the pleasure of making and producing his TV show the 'Two Greedy Italians' with his life long best friend and partner in crime @gennarocontaldo who were hilarious together." And explained that he will be "sorely missed".
Meanwhile, This Morning chef Gino D'Acampo tweeted saying his episode of 'Italian Coastal Escape' that night, would be dedicated to him.
I'd like to dedicate tonight's episode of 'Italian Coastal Escape' to my good friend Antonio @CookCarluccio . Sending all my love to his family. I will remember the good times we had together xxxx

— Gino D'Acampo (@Ginofantastico) November 8, 2017
Having interviewed with Antonio in 2012 Nigella Lawson retweeted the interview and wrote: "Riposi in Pace." - Meaning rest in peace in Italian.
Riposi in pace https://t.co/kZ861AS1Zo

— Nigella Lawson (@Nigella_Lawson) November 8, 2017
He will indeed be sorely missed.