Jamie Oliver Defends Decision To Let His Daughters Watch Mum Give Birth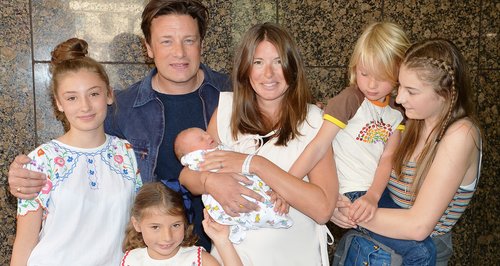 The TV chef has defended the controversial decision to allow his two eldest daughters to watch the birth of their baby brother River Rocket.
Jamie Oliver has been forced defend his decision to allow his two eldest daughters Poppy Honey, 14, and Daisy Boo, 12, watch their mum Jools give birth to their son, River Rocket back in August.
In a festive interview with Good Housekeeping magazine, the TV chef said that "It's only controversial to really strange people!"
"It was the right age for them, the right scenario for us, and I witnessed their initial raw emotion as the little one was handed to them. I know they respect their mum now even more than they already did."
Jamie, 41, has five children with his wife Jools, also 41; Poppy Honey Rose, Daisy Boo Pamela, Petal Blossom Rainbow, 6, Buddy Bear Maurice, 5 and River Rocket, 4 months.
It was a decision that Jamie and Jools thought long and hard about before letting them witness the birth but believe it was completely the right decision.
"I know they respect their mum now even more than they already did. It was an amazing show of strength," he said.
The move was backed by former nurse and midwife Clare Byam-Cook who thought the decision to allow the two eldest daughters to cut the umbilical cord was "very positive".
She did however state: "It can be distressing for some children, particularly if they are younger, to see their mother in pain. She may use language in labour that she normally wouldn't dream of using in front of her children, and the blood and faeces that are a perfectly normal part of birth can be shocking to a child."
However, Jools and Jamie are confident that River is their last child, that they would like to stop at baby number five. In an interview he said: "This will be the last one. It is just getting ridiculous otherwise. This was not expected. I can't even believe I'm saying it. My own family were shocked too."