Inside England footballer Jamie Vardy and wife, Rebekah Vardy's luxury Leicester home
13 July 2018, 10:55 | Updated: 13 July 2018, 12:07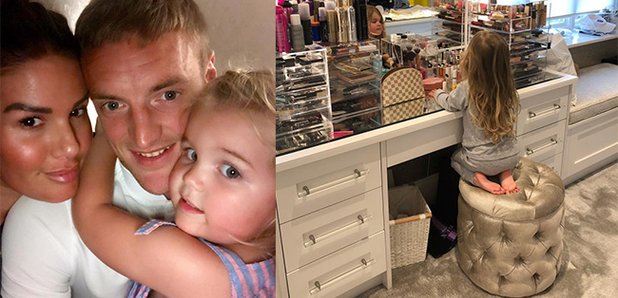 The England and Leicester CIty striker lives in a luxurious home with his wife Rebekah.
Jamie Vardy, 31, and his wife, Rebekah, 36, share a luxurious home and mansion just outside Leicester.
The glamorous couple - who married in 2016 - live with their five children close to Jamie's day job as a striker for Premier League team, Leicester City.
Thanks to Rebekah's Instagram, we can have a sneak peak at the pad where Jamie will no doubt be relaxing upon his return from the World Cup in Russia.
In the snaps on her Instagram you can see many glam touches around the house including a fully kitted out dressing table with LOADS of make up.
It's also beautifully decorated with plush sofas, an indoor pool and glass floor in some parts of the home...
But with five kids running around, the family home isn't all about Jamie and Rebekah's tastes.
There are lots of touches around the property that are perfect for the kids, although we are sure they probably love having an indoor pool to play in!
One particularly adorable touch is this wooden kids kitchen that Rebekah has placed in the garden for her youngest children, Sofia, 3, and Finley, 1.
Rebekah likes to stay in shape so uses the indoor pool area that they have as a make shift gym and often shares snaps of herself working out at home.
They also have lots of silver accents around the home in the furnishings which is a big trend for interior design right now, especially for upholstery and sofas.
We wonder whether she'll opt for a red and white colour scheme to celebrate England's World Cup performance!