Jeff Brazier weds girlfriend Kate Dwyer - and his teenage sons look just like mum Jade Goody
24 September 2018, 10:57 | Updated: 24 September 2018, 11:28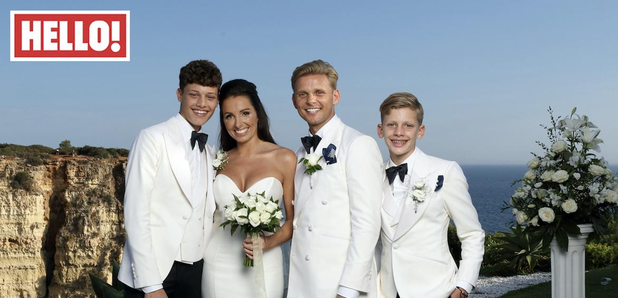 The TV presenter married his girlfriend at the weekend and his two sons were a huge part of the big day.
Jeff Brazier and girlfriend Kate Dwyer got married on a romantic Portuguese cliff surrounded by loved ones.
The happy couple shared their special day exclusively with readers of Hello! magazine's latest issue and Jeff shared a teaser of the beautiful photos on his Instagram account.
He uploaded a snap of himself with his new wife Kate alongside his two sons from his relationship with Jade Goody; Bobby, 15, and Freddie, 14.
Fans couldn't help but comment on how grown up the boys are and the huge resemblance they bear to their late mother who passed away from cervical cancer in 2009 aged just 27.
One commented "Omg when did your boys grow up" while another said "Jade would be looking down with such pride of her boys, they're a real credit to you."
Speaking to Hello! magazine ahead of his big day Jeff said: "I'm so happy to marry Kate, who has brought so much stability to my life.
"This isn't just any wedding, this is a really special one.
"It doesn't just represent Kate and I putting rings on each other's fingers. It represents the fact that we won at something really tricky. We won at becoming a family."
"Before it was just three boys rattling around in a house on our own, trying to get through life. Then Kate came along and worked so hard at making us complete.
"She hasn't just completed one person, she's completed a family and given three boys a real sense of belonging."
Kate and Jeff had been dating for four years when he popped the question to the PR Director from Brighton while on holiday in Ibiza in 2017.