Jennifer Aniston Should Just Follow 'Friends' To Get Over Her Justin Theroux Split
16 February 2018, 12:54 | Updated: 16 February 2018, 14:05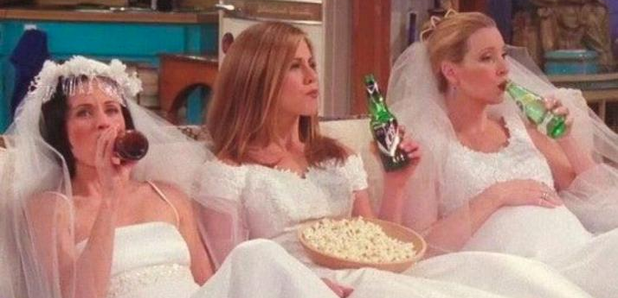 Jennifer Aniston and Justin Theroux have announced their split, but we reckon Jen will do just fine getting over her ex, by taking a few tips from Rachel from Friends...
After two years of marriage, Jennifer Aniston and Justin Theroux have called it quits. Though rather than wallowing in self-depression and feeling unlucky in love, we have no doubt, that Jen will be getting over Justin in true Rachel from Friends style, and here's how…
She'll keep reminding herself about the reason she ended it
The best way to get over an ex is to strip back all the good times you spent together and remember the reason you broke up. Whilst Justin Theroux might not have cheated, there's no doubt a good reason why they chose to call it quits after two years of marriage. The more Jen remembers the reason, the easier it will be to move on.
Partake in an epic girls night...
A boozy girls night in can work as the perfect healer. Whilst doing this in wedding dresses, like Monica, Phoebe and Rachel might not be the healthiest way to go, Jennifer knows all too well that getting your friends to perk you up is a great reminder that things are going to be ok.
A night out on the town also, never hurts...
Dancing away your troubles IS a thing. Jen just needs to call on Courtney Cox (who amazingly is is her bestie in real life!) and dance like no one's watching.
Eat good food!
Going through a break up is one of the few times you can eat until your heart is content and not feel guilty about it!
She'll make sure it really is over
We all know what being on a break did to Ross and Rachel. The best thing Jen can do is, make sure it's a solid decision and not go back on it. Being on a break is way too complicated.
Celebrate Jennifer!
As an award-winning actress, there's no better time just for Jennifer to just sit back, celebrate her achievements and what is yet to come. It's all about enjoying some 'me' time, working on the next steps and celebrating your independence.
Move on to the next...
She's a free agent again, and she's Jennifer Aniston, which technically means she can get anyone she likes. Getting over a break-up is so much easier when someone else is showing you attention - that way you know you've still got it. Once the dust has settled, it's time to move on Jen. Good luck!