Leo DiCaprio Responds To THAT Flirty Text From James Corden
Jennifer Lopez Carpool Karaoke
13:38
Leonardo DiCaprio found himself on the receiving end of a hilarious prank pulled by James Corden when he nicked J.LO's phone during the latest Carpool Karaoke.
Jennifer Lopez certainly has a way with the guys, so it probably wouldn't have seemed out of the ordinary when Leonardo DiCaprio received a friendly text from the pop star asking where she could 'cut loose'.
Unfortunately for Leo, the flirty text was just part of a prank pulled by James Corden when he took J.LO for a spin this week and proceeded to hijack her phone.
Now Jennifer Lopez has finally revealed what Leonardo DiCaprio had to say for himself, and she claims he saw the funny side of the prank.
"I did have to explain it to him," she told reporters after filming 'American Idol'. "He was a great sport about it ... I was like, 'So hey, this is what had happened! I was with James Corden'".
J.LO also dished on her relationship with Leo, claiming they have always been really good friends.
She added: "He's great. He's a friend and it was nice. He was totally like, 'Do whatever you want, I don't care.' I don't know if he'd say that today!"
The prank began when James Corden began scrolling through the J.LO's star-studded phonebook before reading out a string of famous names including Leo. *SWOON*
"Hey baby,' Corden wrote. "I'm kind of feeling like I need to cut loose. Any suggestions, let me know. J. Lo (you know, from the block)."
CRINGE.
What's even more hilarious was Leonardo's reply, which read: "You mean tonight, boo boo? Club wise?"
Unfortunately for the Leo J.LO claims she didn't go clubbing with him, and instead spent the evening with her family.
She explained: "I was home cooking with my kids and my boyfriend."
Elsewhere, the pair sang along to the pop star's biggest hits including 'Jenny From The Block' and 'Love Don't Cost A Thing' before Corden began quizzing J.LO on some rumours about her life.
The bootylicious singer answered all of our burning questions including how many times she's been proposed to and whether she really did insure THAT butt!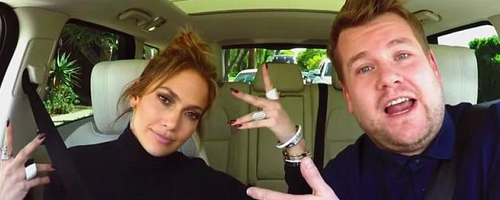 The sketch comes after it was revealed that Corden is set to reach new heights as his 'Carpool Karaoke' segment will get its very own slot on primetime US TV.
The series will be an extended version of the viral videos that see the cheeky host interview stars as they drive around town.
In a sneak peak trailer for the show, Corden is seen rapping in his very own spoof music video of 'Downtown' by Macklemore and Ryan Lewis.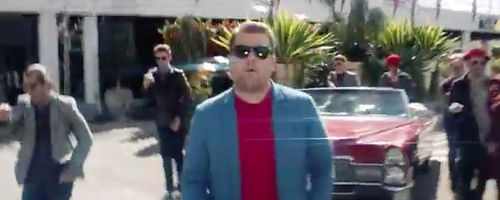 The hilarious video sees the cheeky presenter dressed up in numerous outfits as he raps: "Boss is like, 'How 'bout a special? You wanna do it?' "I'll make your TV shine brighter than a halo, all leading up to a Carpool with J.Lo."
It doesn't stop there as James Corden also has his eyes on the likes of Beyonce, Prince and Sam Smith for future sketches.
So watch this space!