Jeremy Clarkson makes horrendous blunder on Who Wants To Be A Millionaire which cost contestant £16,000
12 May 2018, 11:47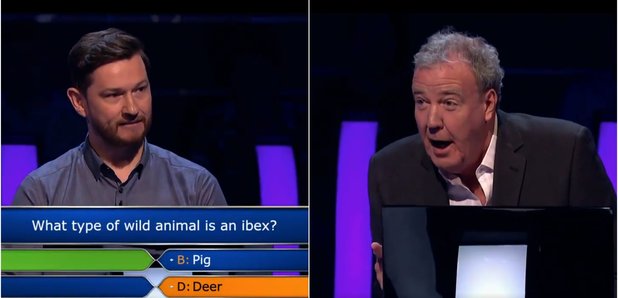 The former Top Gear star's made the show a night to remember (for all the wrong reasons).
Jeremy Clarkson left viewers wincing with embarrassment after making a huge gaffe on the final of Who Wants To Be A Millionaire.
While confidence has always been one thing that the TV host doesn't lack, even Clarkson himself couldn't believe how painfully wrong he was after celebrating a contestants incorrect answer.
Poor Alan Horsburgh from Kirkcaldy in Scotland thought he had won £16,000 after answering the multiple choice question: "What type of wild animal is an ibex?"
OH DEER OH DEER!! That moment when you definitely know the answer, except you don't.
#Awks
#Millionaire @MillionaireUK pic.twitter.com/vRja4sgy1L

— ITV (@ITV) May 11, 2018
The contestant had to choose from the options pig, goat, hare and deer to be in with the chance of winning the cash prize.
Certain that he knew the answer, Clarkson who is replacing Chris Tarrant as the quiz show's host for the 20th anniversary, told Alan, "I'm going to really annoy you now. I know the answer."
Having already used all of his lifelines, Alan took a gamble on 'deer' much to the 58-year-old presenter's delight.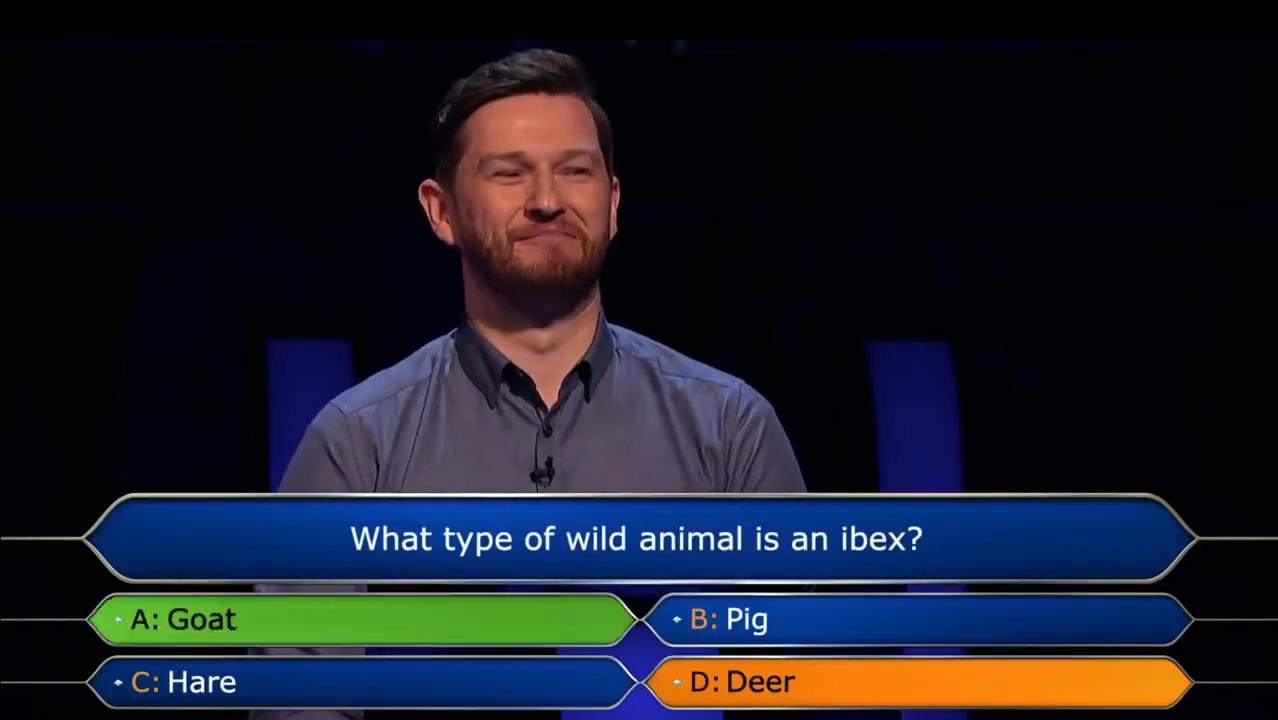 "I'm not even going to look at the screen," Clarkson smirked, "That's the correct answer"
Except...it wasn't. 'Goat' was the right answer. Yikes!
Mortified that he had not only got the answer wrong, but then the former Top Gear host had to break the news that Andy had lost £15,000 on top of his embarrassment.
While Clarkson remained mortified, viewers just couldn't help but laugh off their disbelief at the humungous blunder.
Jeremy Clarkson #WhoWantsToBeAMillionaire pic.twitter.com/F7dpXISPe6

— Flint Bedrock (@flintbedrock) May 11, 2018
Jeremy Clarkson with a howler on who wants to be a millionairetold the contestant he got the answer right and it was actually wrong guys just lost 16 grand man

— Stuart. (@StuPollock1) May 11, 2018
Omg Jeremy Clarkson nooooo cringing so much at who wants to be a millionaire

— kerina clark (@kerinaclarkk) May 11, 2018
Crying at who wants to be a millionaire, told him it was the correct answer and the opposite flashed green, how awkward man

— Travis Waters (@travwaters96) May 11, 2018
Jeremy Clarkson wins the numpty of the year award. Makes the Oscars look professional #Millionaire #WhoWantsToBeAMillionaire pic.twitter.com/3c9Xj2QVdh

— Ronan Warde (@Ronan_G_Warde) May 11, 2018
@JeremyClarkson last nights millionaire was brilliant with your deer/goat cock up you've certainly brought something new to the show

— simon garton (@simon33510029) May 12, 2018
Thank God it's the final show, ey Jeremy.