Watch! Jimmy Kimmel Unearths Your All Time Favourites Bands For Mash Up Mondays.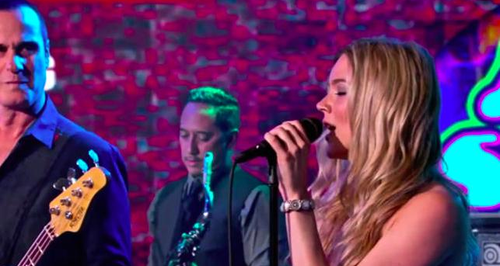 We've rounded up the best supergroups to appear on the late night chat show to perform for it's popular 'Mash Up Mondays' series. From Kool In The Gang to Color Me Badd and Joss Stone, see what happens when classic artists join forces!
Jimmy Kimmel has reprised his popular strand which takes a little of the old and the new, by combining a modern artist with a complete throwback to create a pun-tastic supergroup.
Week Three:
It was 'Ladie's Night' for Kool and The Gang last week as they paired up with American singer-songwriter Jewel to create Jewel & And The Gang. The tag team performed a medley of the jazz-funk group's biggest hits including 'Hollywood Swinging' and 'Celebration'backed by a brass band.
Check it out!
Week Two:
Soulful singer Joss Stone teamed up with the rock group to bring fans the 'Joss Stone Temple Pilots', and it's clear she still has the same sass as she had when she stormed the charts in late 2003 with her debut album 'The Soul Sessions'.
The Brit-born star delivered a stellar rendition of 'Interstate Love Song' as she rocked it out with the boys.
After bursting onto the scene a decade ago, Joss Stone also had success with her follow-up album 'Mind and Soul' in 2004, which went on to sell over 2 million copies.
Since then the 28-year-old singer has achieved plenty of success Stateside with two more albums, but it's been a little while since her her UK fans have seen or heard anything from the singer... until now that is!
Week One:
First on the line-up was Color Me Badd, who reformed for a one-off performance with Brad Paisley.
The super group united for a rendition of their popular 90s hit 'I Wanna Sex You Up', with a dose of Brad Paisley's country twang for good measure.