Joel Dommett Is ENGAGED And Popped The Question In The Most Romantic Way!
29 December 2017, 10:57 | Updated: 12 July 2018, 13:59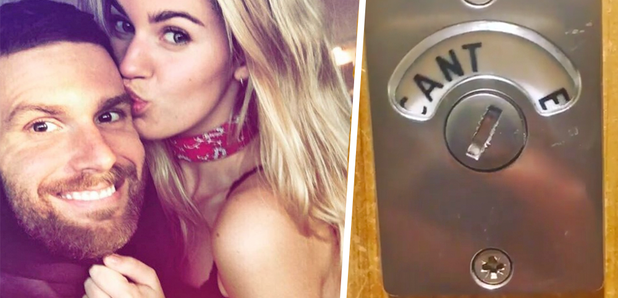 He may only have been dating his girlfriend Hannah Cooper for a year but after this romantic proposal, there is no way she could say no!
'I'm A Celeb...Extra!' host Joel Dommett is officially off the market after popping the question to his girlfriend Hannah Cooper.
The couple took to social media on Wednesday to announce they were engaged just one year after meeting on Instagram.
The future husband and wife chose to announce the news using a hilarious clip of a door lock to make the exciting announcement and now new details about the proposal have been revealed.
The comedian is known for his wacky ways, so it's no surprise that Joel's proposal to Hannah was something unique.
According to reports by Sun Online, Joel used his new book 'It's Not Me, It's Them: Confessions Of A Hopeless Modern Romantic', to pop the question by writing: "Will you marry me?" in the last page.
"He managed to keep it under wraps for weeks - he was so determined to keep it a secret," a source told the website.
"It's so romantic and of course Hannah wasn't expecting it at all.
"You can't get a better proposal than that – it's in black and white. It was the perfect way to ask her."
"And as we can all see from the way he announced the engagement on Instagram – he likes to be different."
The news comes after Joel shared the news by filming the lock of a door turning from 'vacant' to 'engaged' and tagged his fiancée in the caption.
Joel and Hannah's relationship is far from conventional as they met after messaging each other on Instagram.
Speaking on how they met, Joel revealed: "He said: 'We met on Instagram. She sent me a cat emoji with the heart eyes. That is the modern equivalent of the old phrase 'you had me at hello', now it's 'you had me at cat emoji'."

Aww! It's a modern romance!