John Legend Stuns Fans With Impromptu Gig At A Train Station!
29 March 2017, 12:13 | Updated: 23 August 2018, 16:58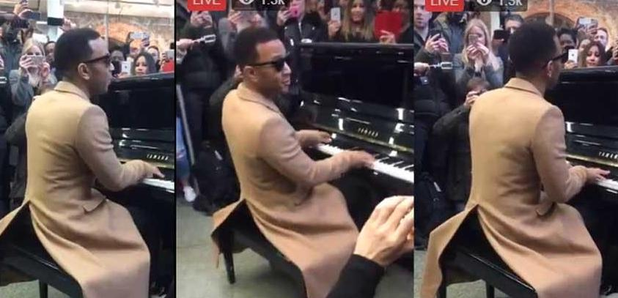 What would you do if the 'All of Me' hitmaker gave you an intimate performance for free?
Travellers at St Pancras station in London were treated to a surprise performance from none other than John Legend today.
The "All Of Me" hitmaker teased on Twitter that he was arriving into London from Paris via the Eurostar and had been wondering whether the station still had their famed pianos.
Special guest on @EurostarUK this morning @johnlegend ~ followed by amazing performance on the piano #Eurostar #johnlegend pic.twitter.com/ucazrSo4Je

— Lucy Treble (@lucytrouble1) 29 March 2017
Shortly after, he shocked fans by not only walking through the station but sitting down at one of their pianos, which can be used by members of the public who fancy playing the keys while waiting for their trains.
John Legend surprises Londoners with impromptu performance at St Pancras https://t.co/aqsbPXMFS5 pic.twitter.com/sGw7j4Q4KD

— Evening Standard (@standardnews) 29 March 2017
Of course, crowds swarmed around him as he belted out some of his most famous hits including "Ordinary People", "Surefire" and "All of Me".
John received huge cheers from the crowd, who were no doubt chuffed that they had witnessed him perform live and for free!
Passengers at the station were treated to a 10-minute set and he was then ushered through the station into a waiting car.
Fans who, like us, didn't receive the memo about the informal gig swiftly took to Twitter to express their disappointment upon hearing the news.
One user tweeted: "omggg i missed it!! I'm at work."
Another posted: "If I had got the train before I would have seen @johnlegend at St Pancras oh my god."
One unlucky fan who was in attendance was unable to see Legend for the crowds and jokingly tweeted a picture of people filming on their phones.
I'm too short to film @johnlegend playing the piano at St Pancras, so took a photo of people doing that instead pic.twitter.com/3IOnF78qme

— Wayne (@MrWayneyB) 29 March 2017
We're sad we missed it!