Jools Oliver claims being a mum is 'ten times harder' than Jamie's chef career
1 July 2018, 11:36 | Updated: 1 July 2018, 11:48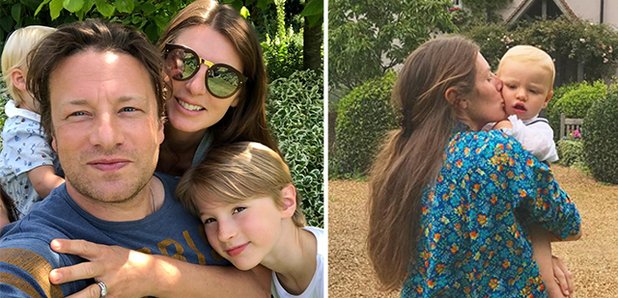 Jamie Oliver's wife believes that her role as stay-at-home mum to their five children is "ten times harder" than his job as a chef.
Jools Oliver, 43, spends most of her time at home looking after her five children, who range from ages one to sixteen.
Between them, she and Jamie share Poppy Honey, 16, Daisy Boo, 15, Petal Blossom, 9, Buddy Bear, 7, and River Rocket, 1.
And Jools has revealed that she believes her day-to-day duties are much harder than husband Jamie's, who is famed for being a celebrity chef.
Speaking on the Made by Mammas podcast, the successful clothing designer revealed: "There's lots of stuff going on with me. I feel like my life is ten times more difficult, which I often tell him [Jamie].
"He's like, 'Whatever', he's just been to see the Prime Minister – but I've had an issue with a bra or something with a daughter and I think, 'Well you know what, mine's worse than yours'. It's brain numbing, it's difficult. And no one really respects you in the house to be fair…"
However, Jools was quick to compliment Jamie's "hands-on" parenting, revealing: "He is very good. He is den building, going on waters, rafting, with River doing all sort of things upside down."
Jools acknowledges that her husband is incredibly well-loved by fans across the country, which can sometimes be a bitter pill for her to swallow: "He's respected at work – anyone who goes to work, it's a nice environment – but it's kind of like hell on earth [for me].
"I'm making it sound awful but in an honest way – it's quite hard."
However, the hands-on mum still won't rule out the possibility of baby number six, confessing that she loves looking after a newborn.
She revealed: "I am going to be 44 in November so it would be nice to get it in before I am 44, but you don't know if anything is going to happen. After that I think am getting a bit too old.
"I am very happy with what I've got, but a little baby you can't beat it!"
WATCH! Jamie Oliver 'horrified' by kids' favourite Turkey Twizzler snack: